Commencement 2016 with Congressman John Lewis
Posted By Kevin R. Johnson, May 17, 2016
Cross-posted from Immigration Prof Blog.
UC Davis School of Law was proud to have Congressman John Lewis, an iconic leader of the 1960s Civil Rights movement who has remained at the vanguard of progressive social movements throughout his long career, deliver the Commencement Address for the graduating UC Davis School of Law Class of 2016.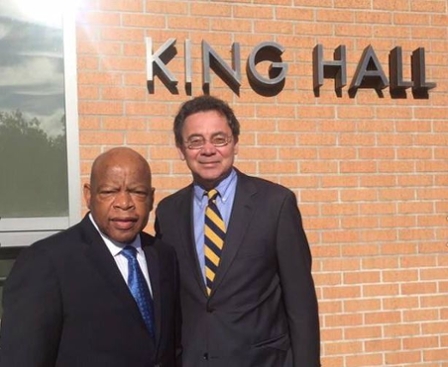 Congressman Lewis and me in front of King Hall
Lewis, who has served as U.S. Representative for Georgia's Fifth Congressional District since 1986, is considered one of the "Big Six" leaders of the Civil Rights movement. Born in 1940 to Alabama sharecropper parents, he was inspired by Dr. Martin Luther King, Jr. and the Montgomery Bus boycott to join the fight against segregation. Since that time, he has dedicated his life and career to civil rights and social equality activism.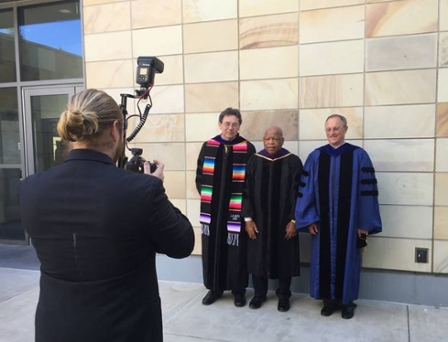 Shooting a portrait with Acting Chancellor Ralph J. Hexter before the ceremony
Congressman Lewis was generous with his time, having breakfast with African-American alumni, faculty, students, and friends of UC Davis School of Law.  He gave an inspirational talk at the breakfast about the long struggle for civil rights in America and how he had made "good trouble" in seeking to move the nation in the right directions.  He mentioned that he had been arrested for civil disobedience in protesting for the passage of comprehensive immigration reform, which he sees as a new and important civil rights issue. 
Congressman Lewis delivered a stirring commencement address, which can be viewed on-line here. See a photo gallery here.