Commencement 2012
Posted By Kevin R. Johnson, May 23, 2012
Commencement 2012 was as elegant as it ever has been.  It was our third commencement ceremony in the stunning Mondavi Center, and the enthusiasm of the students, family, friends, and speakers was truly energizing.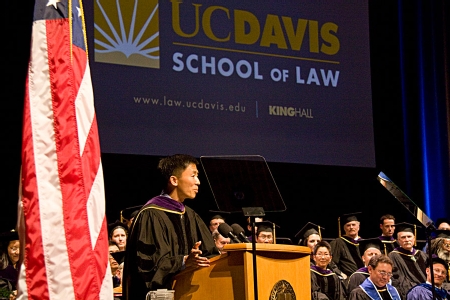 The commencement speaker was California Supreme Court Associate Justice Goodwin Liu.
Speakers included Provost Ralph Hexter, Professor Floyd Feeney, Law School Medalist Brittany Cheney, student speaker John Waste, and, of course, keynote commencement speaker California Supreme Court Justice Goodwin Liu.  The Law School presented 200 JD and 23 LLM degrees.  Here's a fun fact about King Hall families: among the JD graduates were "legacy" students Jessica Satre (daughter of Phil Satre '75) and Scott Judson (son of Craig Judson '84).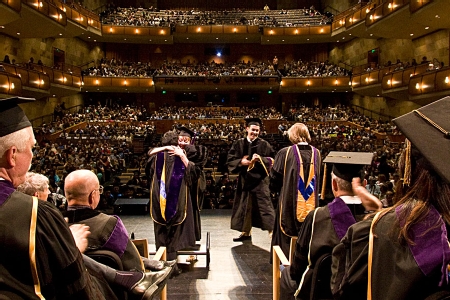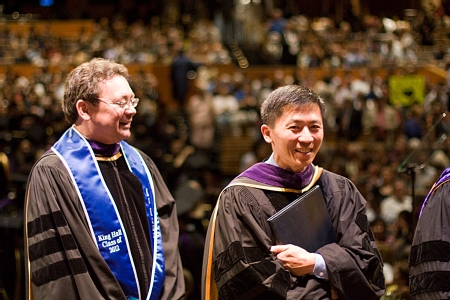 After the reception following commencement, a group of faculty, as well as Alumni Board President Kara Ueda '00 and her husband Scott Lay '00, had dinner with our honored guest, Justice Liu.  Justice Liu's inspiring – and, at times, humorous – commencement remarks left a distinctly positive impression on all those in attendance.  And the dinner continued the celebration.
See the news item about the 2012 commencement on the Law School website, with links to photos on Flickr and a video of the full ceremony.