Chief Judge Alex Kozinski Is the McClatchy Jurist in Residence at King Hall
Posted By Kevin R. Johnson, Oct 28, 2011
Chief Judge Alex Kozinski of the U.S. Court of Appeals for the Ninth Circuit just wrapped-up two packed days at King Hall, where he was the McClatchy Jurist in Residence and delivered the Central Valley Foundation/James B. McClatchy Lecture on the First Amendment.  Judge Kozinski was extremely generous with his time with our faculty, students, and guests!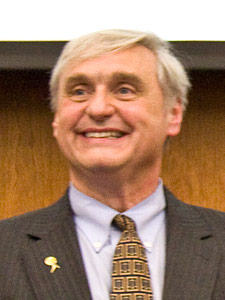 Chief Judge Kozinski in the Kalmanovitz Appellate Courtroom
On Wednesday, Judge Kozinski toured King Hall and had lunch with the law faculty.  During this informal lunch, he talked some about the state of the Ninth Circuit, recent judicial nominations, and the national reputation of the Ninth Circuit.   He also gave presentations to several classes, including Professor Ash Bhagwat's Constitutional Law II and Professor Alan Brownstein's Advanced Constitutional Law Seminar. 
On Wednesday evening, he joined a large group for dinner at the Davis home of Steve Boutin '72, past president of the King Hall Alumni Board.  I was there.  Also in attendance were Susan McClatchy, Lauren Wolkov (Executive Director of the Central Valley Foundation, Judge Kim Mueller (U.S. District Court for the Eastern District), David Post '71 (Central Valley Foundation Board Member), Associate Dean Vik Amar, Professors Bhagwat, Brownstein, Carlton Larson, and Donna Shestowsky, and Jean Korinke (Assistant Dean of Development and Alumni Relations).   At dinner, I thanked Judge Kozinski for being our lecturer, and also thanked the Central Valley Foundation for supporting the First Amendment Lecture series at King Hall.  During the meal, we learned that Judge Kozinski is an excellent dinner companion who tells very funny jokes.  It was a great gathering, and Steve and Linda Boutin were perfect hosts.
On Thursday, Law Students Association President Rabia Paracha escorted Judge Kozinski to King Hall, where he met with students in Professor Brownstein's Law and Religion Seminar and the Federalist Society, American Constitution Society, and other student groups.  At lunchtime, students were invited to join him for sandwiches and ask questions about the judiciary.  The classroom was packed!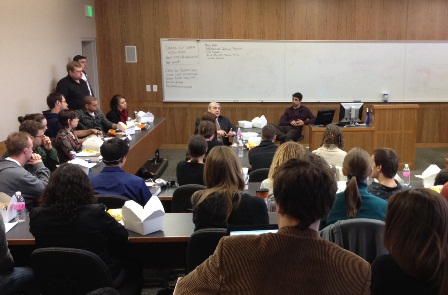 Chief Judge Kozinski answers law students' questions over lunch.
The main event, the Central Valley Foundation/James B. McClatchy Lecture on the First Amendment, took place in the afternoon.  Judge Kozinski gave an excellent lecture, entitled, "The First Amendment in the Age of Information Overload."  He talked about what it means to have free speech in the Internet Age, and how Wikileaks, Twitter, and other forms of electronic communication have changed the world.  His primary point was that the Internet has made the First Amendment nearly obsolete because, in today's online world, it's impossible to suppress speech.  The lecture was attended by an overflow audience.  I especially enjoyed seeing Professor Floyd Feeney back at King Hall after an extended absence.
Many thanks to Judge Kozinski for spending time at King Hall.  And thanks to the Central Valley Foundation for its support of UC Davis School of Law!