CELPC Reception in San Francisco
Posted By Kevin R. Johnson, Mar 1, 2012
Last night, we had a lovely celebration for the California Environmental Law and Policy Center (CELPC) at the Aquarium by the Bay in San Francisco.  It is a stunning venue.  Professor Hap Dunning gave me a tour of the aquarium before the reception.  Hap and alum Steve Machtinger '74 both serve on the board of directors of the non-profit Bay Institute, which a few years ago acquired the aquarium.  Steve introduced me during the program.  Center director and UC Davis law alum Rick Frank '74 and law student Naomi Kaplowitz told the crowd about the center's recent lectures and other great work.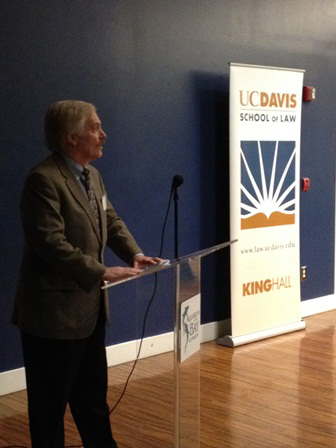 Professor Rick Frank '74 talks about the center's excellent work.
Many alums, students, and friends were present.  CELPC advisory board members and alums Amy Quirk and Bruce Klafter were there.  Alumni Board Member Gene Woo attended. 
We had a great turnout for the reception.  It was wonderful to see so much support for our California Environmental Law and Policy Center!