Catching up with Friends
Posted By Kevin R. Johnson, Feb 4, 2011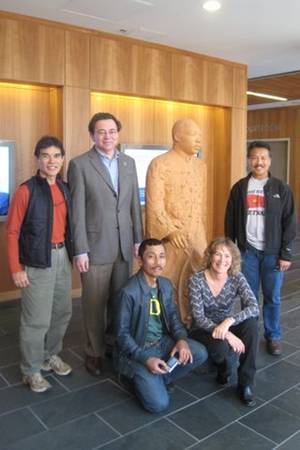 It's been an exciting week at King Hall, with some special visitors stopping by to reminisce and tour the "new" King Hall.  On Thursday, Bill Tamayo '78, who lives in San Francisco where he serves as a Regional Attorney for the U.S. Equal Employment Opportunity Commission, dropped in with some friends:  Joseph Florendo '79, who is a District Judge in Kona, Hawaii, Nancy Budd  '79, who is in private practice in Kauai,  and Alan Murakami '78, who is the Litigation Director of the Native Hawaiian Legal Corporation in Honolulu.  They stopped by on their way to do some skiing at Lake Tahoe and toured the new wing of King Hall with me.  They were thrilled to see the new technology, the beautiful Kalmanovitz Courtroom, and the Martin Luther King Jr. statue on prominent display.   
Also visiting on Thursday was Beth Terrell '95, who is now in private practice doing complex litigation in Seattle.  Beth made time for a visit after a court hearing in Sacramento.  This was her first trip to King Hall since graduation, and it was  great to catch up with her. 
Thank you to Bill, Joe, Nancy, Alan, and Beth for stopping by this week.  I always enjoy meeting with alumni and former students , and I'd like to encourage all of our alums who might be considering a visit to come out and see our wonderful new facility and catch up with faculty and friends.