Catching up with Eileen Chun-Fruto '97
Posted By Kevin R. Johnson, Aug 23, 2012
It's always a pleasure to learn that an alum has returned to King Hall for a visit.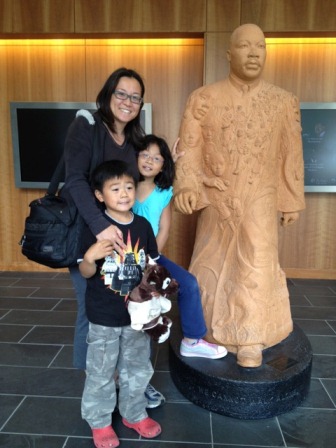 Eileen Chun-Fruto '97 sent me this photo recently.  She practices immigration law in Los Angeles, but she and her family visited the Davis area over the summer because her husband was taking part in a local cycling event for Livestrong.
She writes, "We got into town late Friday and I managed to sneak over to the law school and walk through quickly.  Here's a picture of me with Grace (9) and Robert (5), MLK, and ... our beloved stuffed animal."
Maybe Grace and Robert are future King Hallers?
Thanks for sharing the great photo, Eileen!