Carr Competition Results
Posted By Kevin R. Johnson, Nov 3, 2011
Scott Judson '12, Chair of the Trial Practice Honors Board, sent me this update about the Carr Competition. The final round was held last night.
"Our winners were Zachary Schultz '13 and Nathan Zhang '13. Our finalists were Matthew Pearson '13 and Sumair Khan '13. As winners, Zachary Schultz and Nathan Zhang receive automatic invitations to next year's Trial Practice Honors Board.
Attached is a picture of our winners and the judges: Judge Timothy Fall '87 and Dani Rogers '00."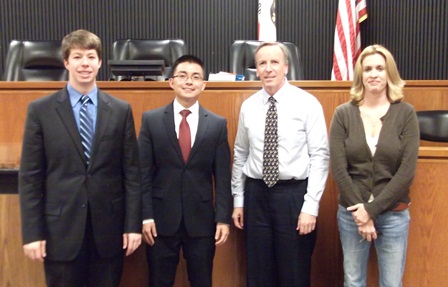 Thanks, Scott!  And congratulations to all!