Capitol Reception 2016
Posted By Kevin R. Johnson, Sep 12, 2016
Last week, the UC Davis School of Law held its 23rd annual Capitol Reception in Sacramento.
After a tour of the stately Capitol building and brief presentations by alums Judge Lawrence Brown '89 and Kara Ueda '00, first-year students posed for their class photo. The students, dressed smartly and professionally, literally looked like lawyers.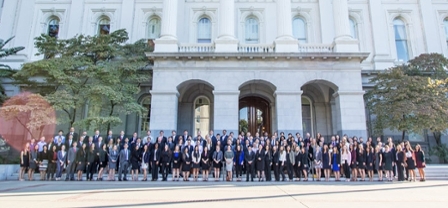 The Class of 2019 on the Capitol steps. You can see the full-size photo here!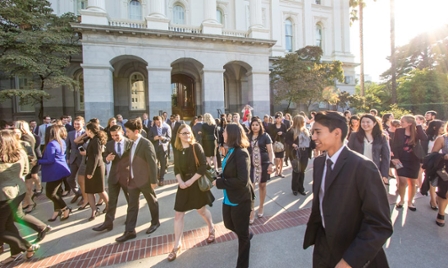 Students head to the reception nearby.
Alums, students, faculty and staff then convened at a wonderful reception in Sacramento's bustling downtown.  Professors Carlton Larson, Thomas Joo, Lisa Pruitt, and Rick Frank were in attendance.  We had an incredible group of alums in attendance, including Marc Levinson '73, and current and former alumni board members Grace Arupo '02, Amal Abu-Rahma '97, Michael Mills '97, John McKinsey '99, Iris Yang '82, Penny Westfall '84, Trena Burger-Plavan '85, Mark Easter '89, Bob Barton '88, and Gene Woo '85.  I was happy to introduce the Class of 2019 to the King Hall faithful and encouraged them to begin networking.  The assignment was for each student to meet five alums and get their business cards!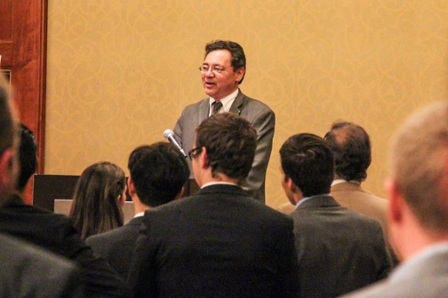 "You must collect five business cards. There will be a test."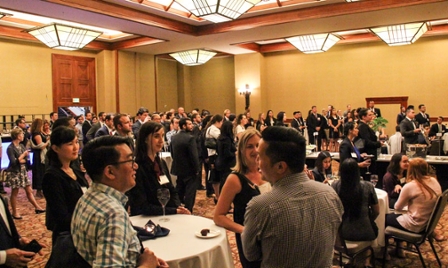 Networking between students, attorneys, and judges
It was a warm and enjoyable evening with tasty food and great company – a great way to welcome the new class to the region's legal community.