Capitol Reception 2013
Posted By Kevin R. Johnson, Sep 13, 2013
UC Davis School of Law held its 20th annual Capitol Reception for first year law students and alums in Sacramento last night.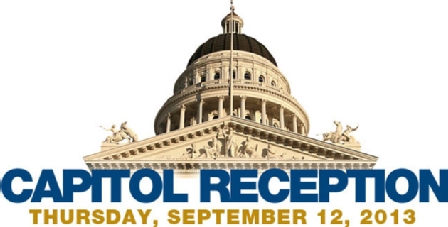 The reception and visit to the State Capitol allows first year students to meet and network with King Hall alumni and see some of the employment possibilities in Sacramento. Nearly 200 people were in attendance, including many alums, such as Alumni Board members Gage Dungy '03, Michael Mills '97, Melissa Jones '99, Grace Arupo '02, and many other alumni, including Marc Levinson '73, Tom Stallard '75, John McKinsey '99, Judge Larry Brown '89, Carissa Beecham '07,Steven Suchil '80, Sandra Talbot '88, and many others.We also had a good number of faculty in attendance, including Professors Rex Perschbacher, Carlton Larson, and Lesley McAllister. The first year students were in excellent form and were enthusiastic about meeting the alumni and other friends of King Hall. I enjoyed telling the students about the new and wonderful King Hall community that they have joined. Thanks to our sponsors of the event:
Gold Sponsors
Greenberg Traurig, LLP
Silver Sponsors
Boutin Jones, Inc.
Locke Lord LLP
Orrick Herrington & Sutcliffe
Bronze Sponsors
Best Best & Krieger LLP
California Business Properties Association
Ellison, Schneider & Harris LLP
Liebert Cassidy Whitmore
Remy Moose Manley, LLP
Stoel Rives LLP
Wilke, Fleury, Hoffelt, Gould & Birney, LLP
And a special thank you to program speakers Kara Ueda '00, Judge Larry Brown, and Law Student Association President Kathryn Bilder '14!