Capitol Presentation on UC Undocumented Legal Services Center Receives Media Coverage
Posted By Kevin R. Johnson, Feb 23, 2016
I blogged previously about my presentation in the UC Davis Capitol Speaker Series last week. The topic was the UC Undocumented Legal Services Center based at King Hall.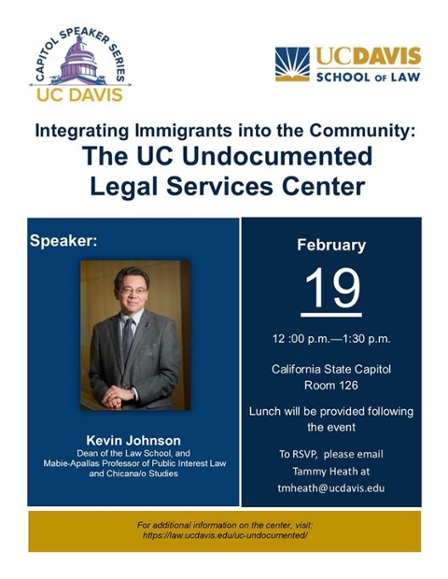 Media coverage on the talk was published today. Here's an excerpt from the story that appeared in Vida en el Valle:
"In the past, the presence of undocumented students on UC campuses was minimized. Nobody wanted to recognize them even though many people knew they made up a significant number on campuses. That has all changed."
Last week, Johnson delivered a presentation on "Integrating Immigrants into the Community: The UC Undocumented Legal Services Center" as part of the Capitol Speaker Series detailing how the University of California system, under Napolitano, has become more accommodating and understanding to the needs of undocumented students.
Read the full story at Vida en el Valle.