Campus Screening of The Uncondemned
Posted By Kevin R. Johnson, Feb 1, 2017
On Monday night, I attended the showing of the documentary "The Uncondemned" in Everson Hall.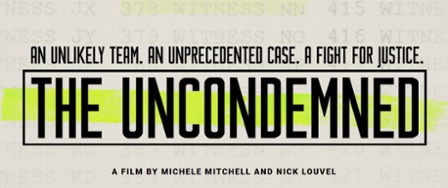 It was a full house, with law and other students, professors (our own Thomas Joo, Margaret Johns, and Karima Bennoune), alumni, and community members in attendance.  
The Uncondemned is a spellbinding and powerful movie about the Rwandan genocide.  In a time when we need inspiration, the film was inspiring to those worried about social justice.  Professor Lisa R. Pruitt played a major role in conceptualizing the prosecution's case against a war criminal with used systematic rape as a tool of war. Professor Pruitt's role has been recognized in various review of the film, including this one in the L.A. Times, as well as this news article in the Sacramento Bee.
I was fortunate to have the opportunity to make introductory remarks. Here's what I said:
Good evening.  I am Kevin Johnson, Dean of UC Davis School of Law.  Welcome to this special screening of The Uncondemned, sponsored by the School of Law and the UC Davis Human Rights Study Program.
The film documents the story behind the 1998 trial that resulted in the first-ever conviction of rape as an act of genocide and a crime against humanity.  You may not be aware of the connection between this groundbreaking trial and UC Davis.   Professor Lisa Pruitt, who is here with us tonight, played a critical role in bringing justice to women in Rwanda.
Professor Pruitt has been with the School of Law since 1999, and she has distinguished herself as an excellent teacher and an outstanding legal scholar.  In recent weeks, you may have heard her commenting for National Public Radio and other media.
Before coming to UC Davis, Professor Pruitt in 1996 served as a Gender Consultant with the International Criminal Tribunal for Rwanda.  There, she assisted  in  the  development  of  a  strategy  for  the  investigation  and  prosecution  of  sex  crimes  committed  during the 1994 Rwandan genocide, including development of the protocol to be used by investigators interviewing sexual assault survivors and guidelines for victims' services.  As depicted in the film we're about to see, Professor Pruitt analyzed the evidence against Jean-Paul Akayesu and advocated that the indictment against him be amended to include sex-assault-based counts.  Put simply, Professor Pruitt was part of a team that made history in bringing justice to victims of sexual violence in Rwanda.  
The Uncondemned tells the story of the prosecution and trial.  I hope it inspires us all to remember the power that each of us has to make a difference when we stand up for justice.  This lesson seems especially appropriate for the times in which we live. 
Thank you for coming tonight.