California Legislature Honors Immigration Law Clinic and UC Immigrant Legal Services Center
Posted By Kevin R. Johnson, Apr 21, 2017
The UC Davis School of Law Immigration Law Clinic and the UC Immigrant Legal Services Center were recognized by the California Senate on yesterday and presented with Legislative Resolutions honoring their efforts on behalf of the state's immigrant communities.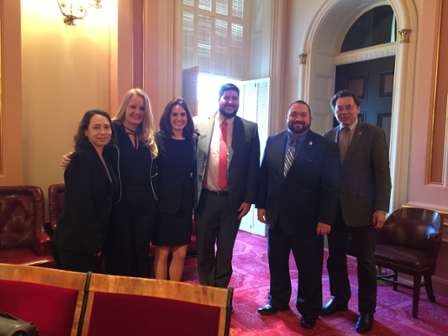 Me with King Hall alums: Professors Perez and Cooper, Rachel Ray, David Gomez, Adrian Lopez (UC Davis Director of State Govt Relations), and me
Senator Bill Dodd warmly greeted the King Hall delegation, which included Amagda Pérez '91 and Holly Cooper '98,  Co-directors of the Immigration Law Clinic, Rachel Ray '11,  Managing Attorney at the UC Immigrant Legal Services Center, and David Gomez '15, Attorney Fellow at the UC Immigrant Legal Services Center.  The incredible work of these and other King Hall alumni in a time of great need makes proud to be Dean of UC Davis School of Law.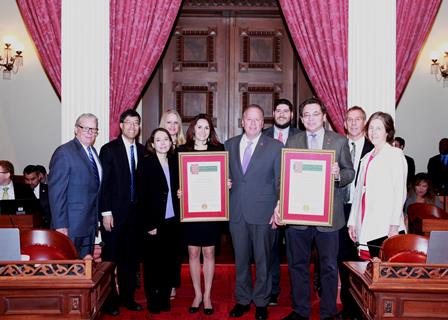 With the resolutions and members of the State Senate: Senator Bill Monning, Senator Richard Pan, Professor Amagda Perez, Professor Holly Cooper, Attorney Rachel Ray, Senator Bill Dodd, Attorney Fellow David Gomez, me, Senator Bob Wieckowski, and Senator Nancy Skinner
Another high point of the morning was to receive congratulations from President pro Tem of the Senate Kevin DeLeon, who has been a champion of immigrant rights.  To find out more details about the Legislative Resolutions, see the article in our website news section.