Business Law Panel
Posted By Kevin R. Johnson, Nov 5, 2009
Today the State Bar Business Law Section offered a great panel presentation on "Careers in Business Law." 
Panelists included Merle Meyers '75 of the Meyers Law Group in San Francisco, Michelle Hallsten of Greenberg Traurig in Sacramento, and Molly Baier '83 of Reed Smith in San Francisco.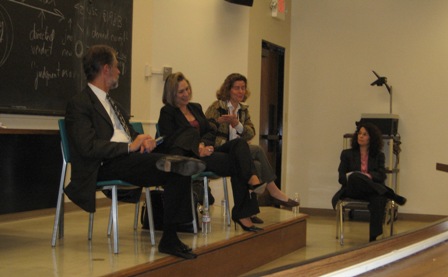 Merle Meyers '75, Michelle Hallsten, Molly Baier '83, and Mindy Baggish
The panelists talked about career paths in bankruptcy law and mergers and acquisitions.  About 25 students attended and asked good questions.  The panelists gave good perspective on the value of unpaid externships, courtroom experience, and the importance of doing high-quality work as an associate.  The attorneys also emphasized how critical it is for students to make a strong impression when they apply for jobs - poor grammar and spelling can ruin an otherwise impressive résumé!
If you missed the panel, not to worry.  Mindy Baggish of the Career Services Office says the discussion was videotaped and will be available on the SmartSite.
Thanks to the panelists for sharing their insight and experience at King Hall!