BLSA Potluck Dinner 2016 Hosted by Professor Evelyn Lewis
Posted By Kevin R. Johnson, Sep 23, 2016
Each year, Professor Evelyn Lewis opens up her home for a dinner to the students of the Black Law Students Association (BLSA), faculty, staff, friends, family, and alums.  This year brought another warm and wonderful gathering on a beautiful end-of-summer evening.   Some distinguished alums, including Judge Stacy Boulware Eurie '95, Irene Williams '15, and Laraya Parnell '15, returned for the evening.  Professor Lewis was a wonderful hostess and said a few words of welcome.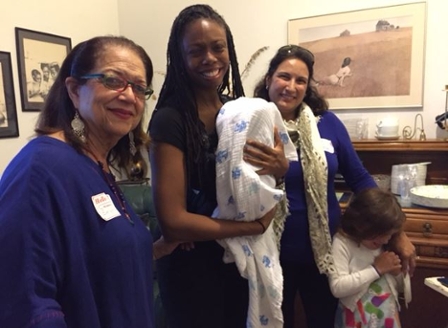 Our hostess Professor Lewis (left) with Professors Andrea Cann Chandrasekher and Jasmine Harris and kids
I always enjoy this event and talking with our wonderful students.  It is one of the events that makes King Hall special.
Thanks to Professor Lisa Ikemoto for sharing some great pictures!