Bill Smith Memorial Lecture 2015 with Kate Kendell
Posted By Kevin R. Johnson, Oct 9, 2015
On Tuesday, the School of Law hosted the 14th Annual Bill Smith Memorial Lecture, presented by the LAMBDA Law Students Association.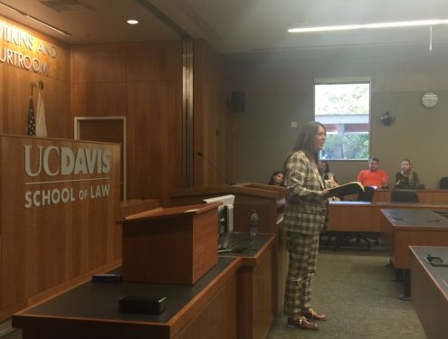 I snapped this picture of speaker Kate Kendell, Executive Director of the National Center for Lesbian Rights (NCLR). NCLR is a national legal organization committed to advancing the civil and human rights of lesbian, gay, bisexual, and transgender people and their families through litigation, public policy advocacy, and public education.
The Bill Smith Memorial Lecture honors the memory of Bill Smith '98, who passed away a few years after graduating from King Hall. I remember Bill's kindness and dedication to disability and LGBT rights activism. This annual lecture honors his memory.

You can read more about this year's lecture in this news story on the Law School website.