Bill Smith Memorial Lecture 2012
Posted By Kevin R. Johnson, Apr 13, 2012
The Lambda Law Students of King Hall hosted an esteemed guest speaker at its annual Bill Smith Memorial Lecture on Wednesday: Hon. Vaughn R. Walker, the former Chief Judge for the Northern District of California, who authored the initial opinion striking down Proposition 8, the ban on same-sex marriage, as unconstitutional.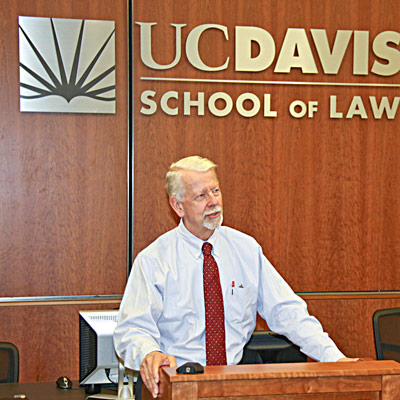 I could not stay for the lecture because I had to attend a meeting with the Dean of a law school in India (We are soon going to launch a new partnership with this school!), but I wasn't going to miss the opportunity to greet Judge Walker.  Before the lecture began, I made sure to swing by the lobby on my way to the Bay Area, so I could thank him for coming to King Hall.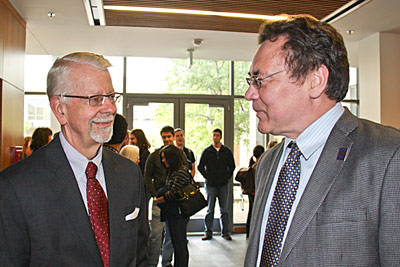 Greeting Judge Walker before the lecture
Associate Dean Vik Amar provided the introduction to Judge Walker's lecture.  Professor Emeritus and former California State Supreme Court Associate Justice Cruz Reynoso (pictured below) was in attendance, as well.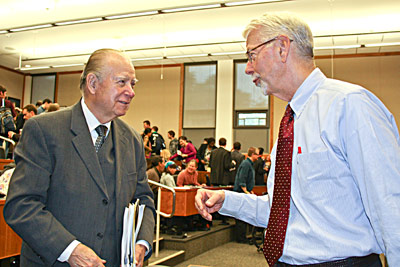 The event organizers recognized three members of the King Hall community with awards. 
Faculty/Professor of the Year: Assistant Dean Sharon Pinkney
Alumna of the Year: Natalie Wormeli '93
Bill Smith Memorial Public Interest Fellow: Bradley Showman '14
Congratulations to the award winners!  And GREAT JOB, Lambda students!  Stay tuned for a news item about the 2012 Bill Smith Memorial Lecture on the King Hall website.