Bill Smith '98 Memorial Lecture 2016
Posted By Madhavi Sunder, Oct 12, 2016
Last night, Senior Attorney and AIDS Law Project Director for GLAD (GLBTQ Legal Advocates and Defenders) Bennett Klein delivered the 15th Annual Bill Smith Memorial Lecture on "Sexuality, Disability, and Irrational Fear: Lessons from HIV Litigation." The Bill Smith Memorial Lecture honors the memory of Bill Smith '98, who passed away in 2001. During Bill's short time with us, he dedicated himself to disability and gay rights activism. This year's speaker is a national leader in both fields who has successfully led impact litigation around disability rights for people living with HIV, employees suffering sexual orientation discrimination, and transgender students.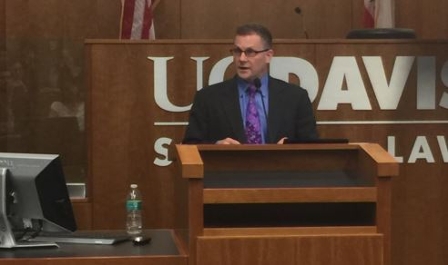 Bennett Klein of GLAD
The ceremony began with Lambda student leader Hannah Bogen presenting the 2016 LAMBDA Law Students Association Professor of the Year Award to Professor Courtney Joslin, citing Professor Joslin's mentorship and inspirational work to expand the rights of LGBT people.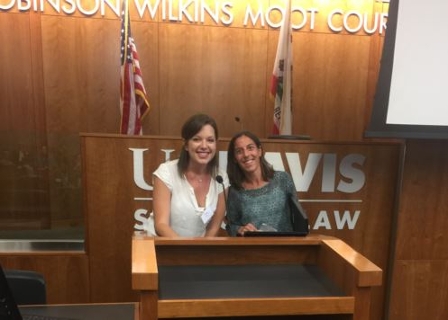 Hannah Bogen '18 and Professor Courtney Joslin
Afterward, we were honored to have as a guest speaker James Zahradka '98, who had been a close friend of Bill Smith, speak about his friend. James told us that in addition to Bill's passionate work on disability and gay rights, he was interested in environmental issues and civil rights. We were also delighted to have Bill Smith's father with us for the Lecture, and expressed gratitude to the Smith family for helping to make these enriching conversations possibility on such important issues. The endowment also allows us to award a grant every year to a first or second year student doing nonprofit work in one of both of these fields.
In his lecture, Bennett Klein spoke of his role in the watershed case of Bragdon v. Abbott, a 1998 U.S. Supreme Court decision that established protection against discrimination under the Americans with Disabilities Act for all people with HIV. He spoke of the role that disgust plays in shaping people's irrational fear and dislike of gay male sex and sexual relationships. 
Thanks to all of the speakers and attendees for making this year's lecture a success.