Bienvenida BBQ
Posted By Kevin R. Johnson, Aug 31, 2011
Over the weekend, I attended the La Raza Law Students Association's annual Bienvenida BBQ at Community Park.  The gathering has been a longtime tradition, dating at least to Immigration Law Clinic Director Amagda Pérez's days as co-chair of LRLSA when she was a King Hall student. 
Fabiola Larios, a 2L, organized the event, which featured carne asada and other favorite foods.  Fabiola also truly demolished the piñata.  I took a few swings, too.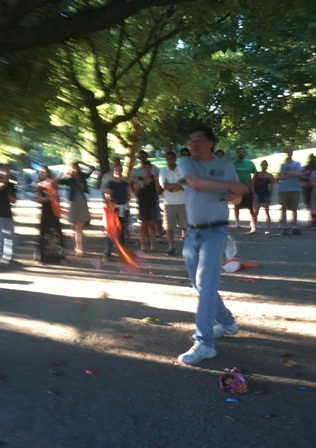 There were probably 35 or so in attendance, including many students and some alums, including Caridad Peña '11, Shannon Going '10, and Christina Medina '08.  Amagda was in attendance.  So was Professor Jack Chin and Legal Writing instructor Larry Green.
I timed my return from a conference at the University of Georgia Law School so I could make it to the BBQ.  I had a great time and stayed until the very end!