Bienvenida BBQ by LRLSA
Posted By Kevin R. Johnson, Aug 20, 2012
On Sunday at King Hall, I joined the La Raza Law Students Association (LRLSA) for its Bienvenida (Welcome) BBQ.  The event is an annual tradition.  The crowd was enthusiastic, the weather was perfect (hurrah for the cooling delta breeze), and LRLSA hung its banner proudly in the courtyard.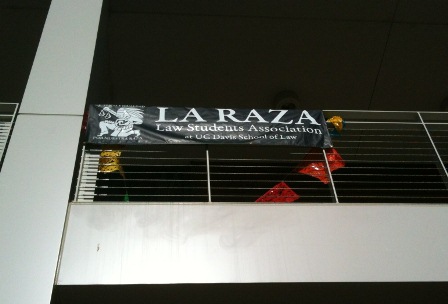 Professor Miguel Méndez and Assistant Dean of Admission and Enrollment Sharon Pinkney were there.  Fabiola Larios '13 helped to organize the gathering. Fabiola introduced the LRLSA board and welcomed all the students to King Hall.
I offered a few remarks, including a warm welcome to members of the new Class of 2015 to King Hall.  I told everyone about how important student groups such as LRLSA are to our vibrant and diverse Law School community.
We dined on excellent dishes including grilled carne asada and tres leches cake.  Everyone had a great time!