Bienvenida 2016
Posted By Kevin R. Johnson, Aug 22, 2016
La Raza Law Students of the UC Davis School of Law, in partnership with the Black Law Students Association, held their annual Bienvenida (translation: welcome) event for incoming students, friends, faculty, alumni, and staff.  There was an impressive group of students in attendance, including many first-year students who had just completed Intro Week.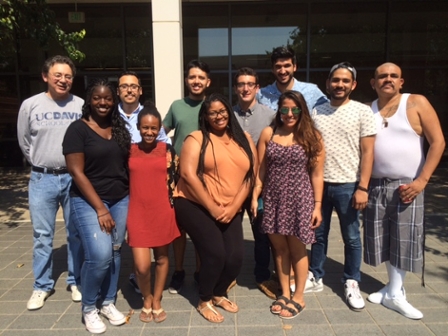 Me (left) and several of our La Raza and BLSA students at the Bienvenida
On a warm August afternoon in the King Hall courtyard, we shared tasty tacos from a local taquería.  Many faculty were in attendance, including Senior Associate Dean Madhavi Sunder and Professors Evelyn Lewis, Jasmine Harris, Leticia Saucedo, Clay Tanaka, Amagda Pérez, Lisa Ikemoto, and, of course, Cruz Reynoso.  Joe Schneider, Director of Admission and Outreach, was there as well.  I was pleased to welcome the group and talked about the tradition of the bienvenida, which I first attended in 1989 when Professor Pérez was a law student!