Arizona Supreme Court Justice Clint Bolick '82 Returns to King Hall
Posted By Kevin R. Johnson, Apr 7, 2016
Arizona Supreme Justice Clint Bolick '82, who a couple of years ago gave a Distinguished Alumni lecture at the School of Law, returned to King Hall to give a presentation on immigration reform. The lunchtime event was organized by the students of the Federalist Society.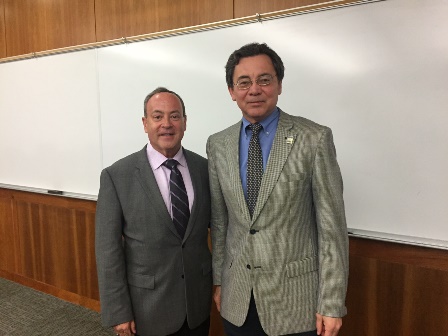 Justice Bolick and me
Justice Bolick, who encouraged our students to apply for clerkship positions in his chambers, discussed the book he co-authored with former Florida Governor and Republican presidential candidate Jeb Bush, Immigration Wars: Forging an American Solution.
Faculty and students were in attendance. The students asked me to comment on Justice Bolick's remarks. It was a great exchange of thoughtful ideas on immigration reform.
The night before, Justice Bolick had dinner with one of his favorite law professors, Joel Dobris. He also saw Professor Emeritus Ed Rabin, another one of his favorites, who came to his presentation.