API Legislative Caucus Foundation Gala 2014
Posted By Kevin R. Johnson, May 13, 2014
UC Davis School of law was well-represented at the Asian & Pacific Islander Legislative Caucus (APILC) Foundation's Asian Pacific Islander Heritage Month Gala in Sacramento. A crew of faculty (Professors Jack Chin, Lisa Ikemoto, Amagda Perez, Rex Perschbacher, Cruz Reynoso, and I) attended to support Professor Emeritus Bill Ong Hing, who was honored for "Excellence in Education."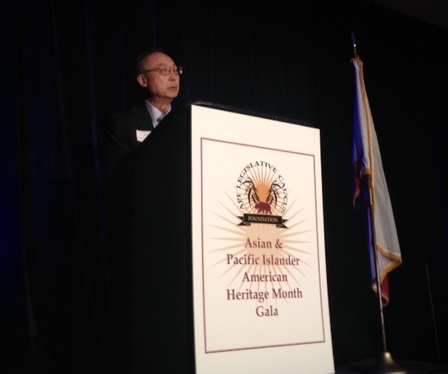 Professor Hing gives his acceptance speech.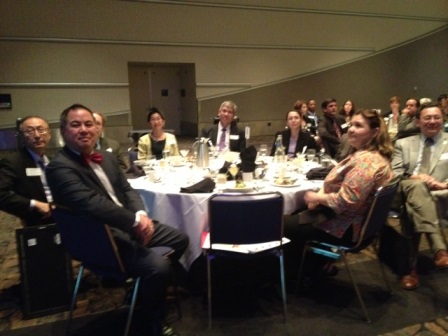 Assembly Member Phil Ting (second from left) joins the King Hall table.
Assembly Member Phil Ting (D-San Francisco) offered a glowing introduction for Bill, noting his excellence in teaching, commitment to the immigrant and Asian American community, and basic decency. Humble as ever, Bill thanked his colleagues, students, friends, and working people who made his public service contributions possible.
Here's the full list of honorees:
Nathan Adrian
Olympic Gold Medalist Swimmer
Excellence in Sports
Bill Ong Hing
Professor, USF School of Lawand UC Davis School of Law
Excellence in Education
Dale Minami
Partner, Minami Tamaki
Excellence in Law
Courtni Pugh
Executive Director, SEIU Local 99
Excellence in Labor
Diane Ujiiye
Founder, APIsCAN
Excellence in Public Service
Jose Antonio Vargas
Journalist, Filmmaker, & Immigration Activist
Excellence in Civil Rights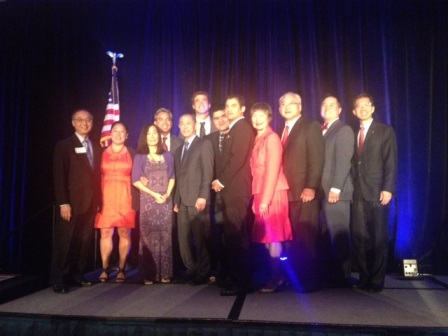 Honorees with members of the API Legislative Caucus
King Hall's Director of Marketing and Communications Pamela Wu served as Mistress of Ceremonies and nicely orchestrated the program.