Another Successful Central Valley Foundation Lecture
Posted By Kevin R. Johnson, Jan 27, 2017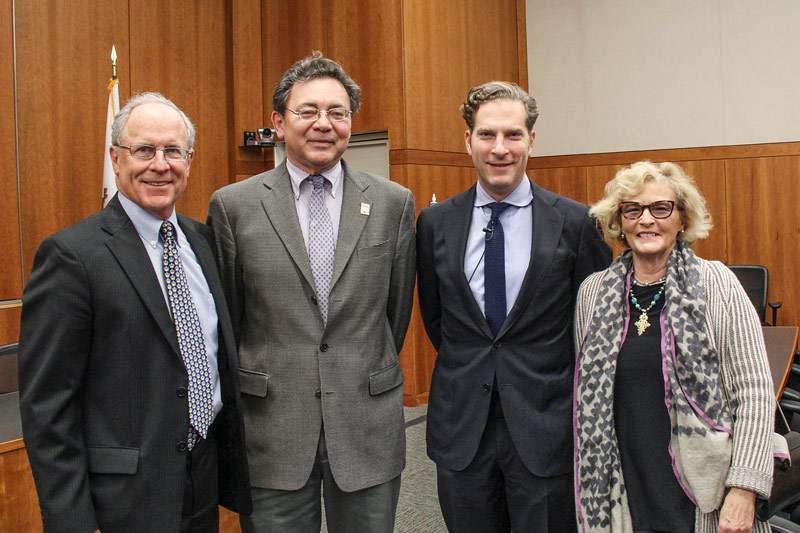 Steve Boutin, myself, Noah Feldman, Susan McClatchy
UC Davis School of Law hosted the 2017 Central Valley Foundation/James B. McClatchy Lecture on the First Amendment yesterday.  The Central Valley Foundation established this lecture series in 2010 to promote discussion and understanding of the First Amendment. The series builds on the Law School's long tradition of excellence in constitutional law that extends back to the founding of the Law School.
The lecture is made possible through the generous support of the Central Valley Foundation, which was established by the late James B. McClatchy, the longtime publisher of the McClatchy Company newspapers.  The Foundation is dedicated to the protection and promotion of the First Amendment, the advancement of academic achievement of English learners at public elementary schools in California's Central Valley, and the enhancement and preservation of the quality of life in the Central Valley. We were honored to have at this year's lecture members of the Central Valley Foundation, including Susan McClatchy.
A distinguished alum, Steve Boutin, who serves on the Central Valley Foundation board, offered welcome remarks.  A founder and shareholder at Boutin Jones in Sacramento, Steve has been named by U.S. News and World Report as one of the "Best Lawyers in America in Commercial Litigation."  He is a generous, devoted, and enthusiastic supporter of King Hall and all things UC Davis.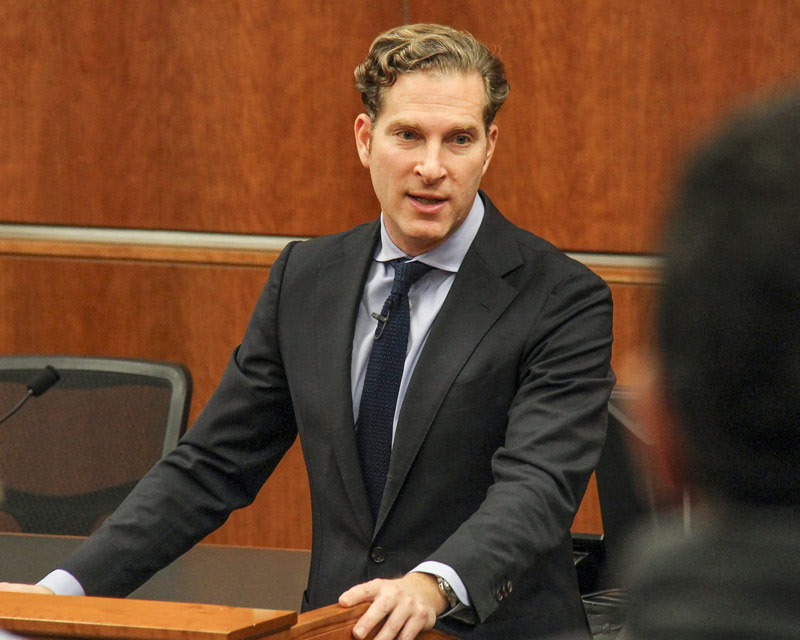 I had the pleasure of introducing our speaker, Noah Feldman, the Felix Frankfurter Professor of Law at Harvard Law School.  Professor Feldman graduated from Harvard College and earned a Rhodes Scholarship. He received his J.D. from Yale Law School and served as a law clerk to Associate Justice David Souter of the U.S. Supreme Court and to Chief Judge Harry Edwards of the U.S. Court of Appeals for the D.C. Circuit. Professor Feldman later joined the faculty of New York University Law School, before returning later to Harvard.   Professor Feldman regularly contributes to the New York Times Magazine and Bloomberg View. He is the author of seven books, including mostly recently, a Constitutional Law casebook.
Professor Noah Feldman gave a fascinating lecture on "The Three Lives of James Madison," which delved into Madison's commitment to freedom of religion and speech.  It was a fascinating and engaging look at James Madison.  There were even a few references to the smash hit Broadway play "Hamilton."
The Central Valley Foundation/James McClatchy Lecture is just one of the amazing intellectual events that make me proud to be at UC Davis School of Law.