Angela Onwuachi-Willig Delivers Bodenheimer Lecture
Posted By Kevin R. Johnson, Nov 9, 2011
Former King Hall faculty member Angela Onwuachi-Willig, now the Charles M. and Marion J. Kierscht Professor of Law at the University of Iowa, yesterday returned to the law school of her formative professional years and delivered a creative, interesting, and enjoyable Bodenheimer lecture.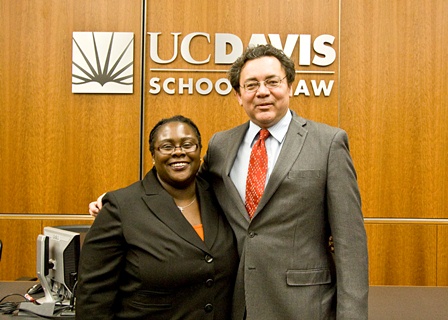 Focusing on the fascinating case Rhinelander v. Rhinelander from the 1920s, Professor Onwuachi-Willig skillfully tied her historical research into modern developments, touching on topics ranging from interracial intimacy to pop culture and the law.  I enjoyed reconnecting with Angela and had lunch with her.  After the rousing lecture, she discussed her research with students, faculty, and others.  She later had dinner with a throng of faculty fans.
The Bodenheimer Lecture was established in 1981 in memory of UC Davis Law Professor Brigitte M. Bodenheimer and brings scholars and practitioners to King Hall to discuss recent developments affecting the family.  Professor Bodenheimer was an internationally renowned teacher, scholar, and reformer of the law.