Angela Harris, Ashutosh Bhagwat, and Jack Chin Join King Hall!
Posted By Kevin R. Johnson, Mar 10, 2011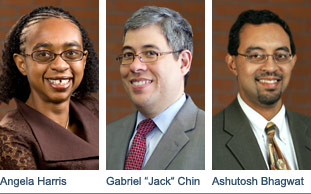 I am thrilled to report that three  distinguished senior law professors—Angela Harris from UC Berkeley, Ashutosh Bhagwat from Hastings, and Gabriel "Jack" Chin from the University of Arizona—have accepted offers to join the King Hall faculty in the 2011-12 academic year!  All three are genuine "superstars" in their fields, and  will make our already-outstanding faculty even stronger.
Harris, who began teaching at UC Berkeley's Boalt Hall in 1988, is one of the nation's foremost scholars in the fields of critical race theory, feminist legal theory, and civil rights.  Bhagwat, a tenured member of Hastings' faculty for more than a decade, is an innovative, broad-ranging, and widely published constitutional law scholar.  And Chin, who joined the tenured faculty at the University of Arizona James E. Rogers College of Law laterally in 2004 and currently holds the Chester H. Smith Professor of Law Chair there, is a prolific and much-cited criminal and immigration law scholar whose work has addressed many of the most pressing social issues of our time. 
Our new faculty hirings have already drawn notice from media.  Brian Leiter, the University of Chicago law professor whose annual ranking of law faculty is one of the main rivals to the yearly U.S. News rankings, observed in his Law School Reports blog (in an entry written when the Harris and Bhagwat acceptances, but not Chin's decision, were public):  "Impressive for Davis to have pulled off two such senior hires in a single year, and let alone under these economic conditions!" Leiter also noted that "both Bhagwat and Harris are past recipients of their school's 'Teacher of the Year' awards."
Harris, Bhagwat, and Chin are not the only accomplished senior faculty to choose to come to King Hall in recent years.  Last year, intellectual property historian Mario Biagioli left Harvard University to come to UC Davis, and immigration law scholar Leticia Saucedo came laterally from the University of Nevada, Las Vegas.  The same year, environmental law leader Richard Frank, a King Hall alum, moved from UC Berkeley to become a full-time member of the King Hall faculty.  The previous year, Miguel Méndez, a renowned scholar in the field of evidence law, left an endowed chair at Stanford Law School to join UC Davis, and tax law scholar Dennis Ventry, Jr. left American University's Washington College of Law to come to King Hall.
The fact that such accomplished senior faculty are choosing to come to King Hall is surely a reflection of our rising status among the top American law schools, as well as an indication that we will continue our upward trajectory for years to come.  Welcome, Professors Harris, Bhagwat, and Chin!