American Bar Association Annual Meeting in Chicago
Posted By Kevin R. Johnson, Aug 3, 2015
I recently returned from the American Bar Association's annual meeting, held this year in Chicago, where the summer weather and city were simply splendid.  You would have never know from the weather that Chicago is known as the "Windy City"!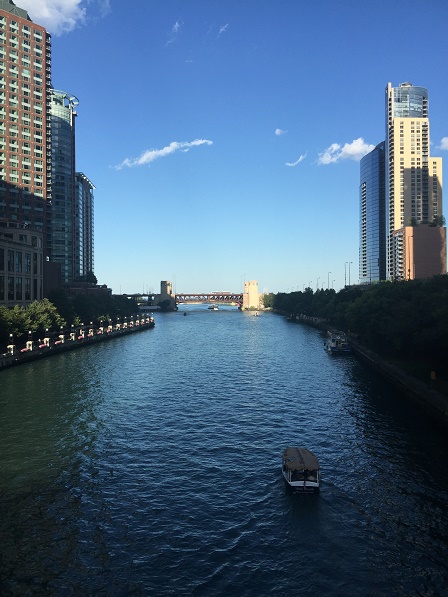 I took this shot of the Chicago River. Beautiful scenery and weather!
I was able to catch up over dinner with a former civil procedure student, Michelle Dohra, who now is a high powered lawyer at Mayer Brown in Chicago.  A native to the area, Michelle returned to Chicago to practice law after excelling as a student at King Hall.  At the convention, I participated in a panel discussion on the 50th anniversary of the Immigration Act of 1965, a major immigration reform bill that greatly influenced the modern demographics of immigration.   Other panelists included Tom Saenz, President and General Counsel of the Mexican American Legal Defense and Education Fund (MALDEF), King Hall Professor Emeritus Bill Ong Hing, Cheryl Little (Americans for Immigrant Justice), and Ediberto Roman (Florida International University). The panel was sponsored by the American Bar Association Commission on Hispanic Legal Rights and Responsibilities.  We had an inspired discussion with a great audience.  With immigration a hot topic because of current events in the news (including Donald Trump's recent remarks), the folks in the audience had some great comment, questions, and insights.