Alumni Reception in Washington, DC
Posted By Kevin R. Johnson, Nov 1, 2010
I just returned from the nation's capital, where I attended a conference of the Association of American Law Schools (AALS) and visited with amazing King Hall alumni in the Washington, DC area.  Thanks go to alum Paul Rosenthal '75 for providing the location for our alumni reception: the stunning Washington, DC office of Kelley Drye, in Georgetown's Washington Harbour overlooking the Potomac River.  Check out the view!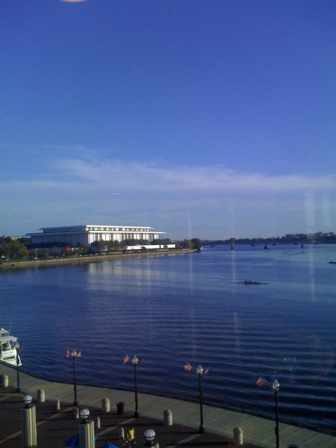 Many alumni attended, including Roldan Trujillo '75, Monika Kalra '00, Matt Bogoshian '88, and more.  Also attending were the six students from King Hall currently participating in the UCDC program, joined by Steve Pershing, Executive Director of the UCDC program.  Alumni Board Member Sally Schwettmann '04 introduced me for brief remarks.  Special thanks to Sylvia Miller at Kelley Drye for all of her help during the evening!
The King Hall team had a productive few days back east.  Earlier in the week, Assistant Dean Jean Flournoy Korinke stopped in Philadelphia to have breakfast hosted by David Hyman '80 at the firm of Kleinbard Bell & Brecker.  They were joined by Ali Hinga Nevitt '08 who moved to Philadelphia a month earlier following a two-year clerkship in Sacramento.
It's always great to visit our east coast alums!