Alumni Mixer in Fresno
Posted By Kevin R. Johnson, Oct 21, 2013
Last week, Craig Compton, Assistant Dean for Career Services, attended a great event put on by the UC Davis Law Fresno Alumni Network. He provides a recap of the event for the Dean's Blog.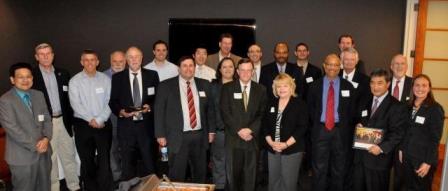 Thank you to everyone who was able to attend, and especially to the organization committee: Mike Fletcher '10, Amanda Cary '07, Erik Cuadros '12, Ashley Emerzian '11, and Teri Ann Kezirian '07. I would also like to thank Robert Wilkinson '81 of Baker Manock and his partners for offering their firm as a meeting place and for the excellent food provided. Also in attendance from Baker Manock were John Michael '82, Dirk Paloutzian '91, and Jackson Waste '12. Judge Dale Ikeda '76 addressed the enthusiastic group and talked about the law school's strong ties in the Central Valley. The event was attended by alums from all sectors including Judge Alvin Harrell III '88, Judge Arlan Harrell '90, and Judge Kathleen Meehan '85. In addition to the Judges, Charles Lee '02, was attendance and he was just named the Branch Chief for the Federal Defender's Fresno office – Congratulations, Charles! Also in attendance were leading attorneys in the private sector including Dean Gordon '74, who runs his own firm, Jerry Casheros '99 of McCormick Barstow, Christopher Urone '09 of Weiss Martin, Daniel Jamison '77 of Dowling Aaron, and many others.
After the alumni event at Baker Manock, I crossed the street to attend the 50th Anniversary celebration of Lang Richert & Patch, another leading firm in Fresno. There, I met with both Robert Patch '71, a named partner, and Christopher Alvarez '13, a starting associate at the firm. Congratulations, Bob, on your firm's great success and anniversary.
Thank you, Craig!
We have many upcoming events for King Hall alumni, including this Saturday's Milestone Reunions! Please check the Law School's event page for more information about our great alumni events.