Alumni and Admitted Students Reception with a View
Posted By Kevin R. Johnson, Mar 5, 2015
Last night, the School of Law held an admitted student/alumni reception at the San Francisco office of law firm Shepard Mullin. Look at that view!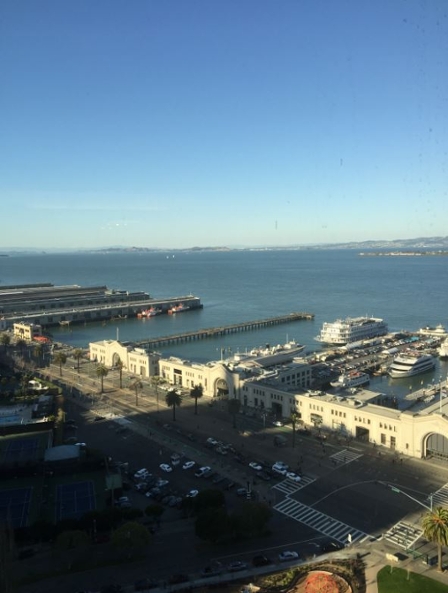 View from the 17th floor of Four Embarcadero Center
We had a great group of admitted students from many excellent schools, including Harvard, UC Berkeley, Stanford, UC Davis, Iowa, Carnegie Mellon, McGill, Smith, and more.  Steve Sacks '80 graciously hosted the event and introduced me to make a few remarks about the Law School's many success and incredible combination of academic excellence, diversity, and community.  Faculty were in abundance, with Professors Rose Cuison Villazor, Afra Afsharipour, Brian Soucek, Chris Elmendorf, and soon-to-be King Hall Professor Bill S. Dodge (currently at UC Hastings), all of whom answered the questions from the soon-to-be law students.  Assistant Dean for Career Services Craig Compton was there to answer questions about career possibilities, which have been improving dramatically in recent years.  Assistant Dean for Admission and Financial Aid Kristin Mercado and Associate Director of Admissions Scott Vignos answered questions about admissions, tours of the law school, and financial aid. Last but not least, we had a super group of enthusiastic alums, including last year's Law Student Association President Kathryn Bilder '14, Gene Woo '85 (Alumni Board member), Matt Struhar '13, Morgan Forsey '05 (a new partner at Sheppard Mullin), Kelly Van Aken '10, Roey Rahmil '10, Gabe Zeldin '10, Errol Dauis '11, Jonathan Braunstein '03, Toni Qiu '14, and many more. It truly was a warm (69 degrees in San Francisco yesterday afternoon) and wonderful -- and, hopefully, informative for the admitted students -- event in the city by the bay.