Alumni across Nevada
Posted By Kevin R. Johnson, Aug 12, 2011
I greeted alumni during a whirlwind tour of Nevada yesterday.  My first stop was Law Vegas, where Joice Bass '00 graciously hosted a luncheon for King Hall alumni at the Lewis and Roca law firm, where she is a partner.  Check out the sign that greeted luncheon guests!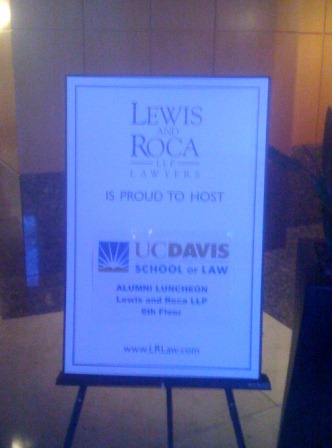 Guests included Nevada State Supreme Court Justice Kristina Pickering '77, Claudia Aguayo '02, Wesley Wong '99, Hon. Bruce Markell '80, Hon. Mike Nakagawa '80, and Marjan Hajimirzaee '10.  Nakagawa and Markell are federal bankruptcy court judges. 
I told the alumni about the great things happening at King Hall: our new building, our rise in the rankings, and our great new incoming class. 
Then it was on to Reno, where our alum Phil Satre '75 and wife Jennifer hosted a reception for our Reno-area alums!  More on that in another blog entry...