ABAS Annual Gala Honoring Professor Chin
Posted By Madhavi Sunder, Sep 11, 2015
On Wednesday night, I was delighted to attend the 2015 Asian/Pacific Bar Association of Sacramento (ABAS) dinner gala held at the stately Tsakopoulos Library Galleria in Sacramento. I sat with King Hall faculty (including Professors Jasmine Harris and Clay Tanaka) and students. We were there with extra enthusiasm this year to celebrate the presentation of the prestigious ABAS Community Award to our own Professor Gabriel "Jack" Chin of UC Davis School of Law.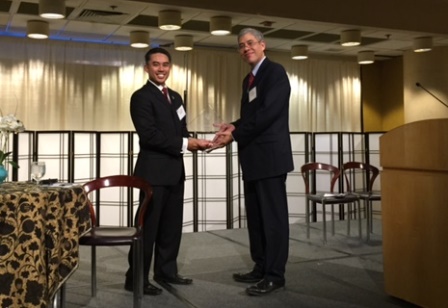 Professor Chin (right) is presented the award by ABAS president Jeffrey Javinar.
Professor Chin is among the most highly cited law faculty in the U.S., and has had a remarkable career of connecting his scholarship to real world change and activism. On this night, he was honored for leading a team of UC Davis APALSA (Asian Pacific American Law Students Association) students in an effort before the California Supreme Court to posthumously admit Hong Yen Chang to the California bar, the Chinese immigrant was denied admission in 1890 because of his race. Professor Chin has previously led successful efforts by law students to remove anti-Asian alien land laws in Kansas, New Mexico, and Wyoming.
"One of the glories of our law is that it has the capacity to admit its mistakes," Professor Chin said as he accepted his award.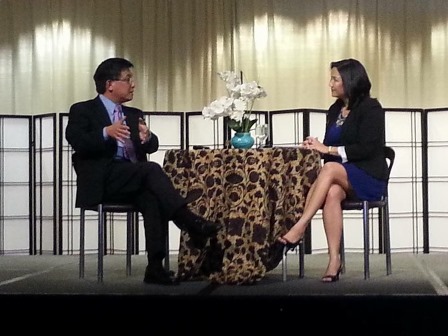 State Treasurer John Chiang with King Hall's Pamela Wu
Attendees were treated to King Hall's own communications director Pamela Wu serving as the emcee for the event, and later in the evening to a Keynote discussion between Wu and State Treasurer John Chiang. Another highlight of the evening was Chiang announcing he is "probably" running for governor!
ABAS generously mentors and sponsors scholarships for law students. King Hall had two student recipients honored: Steven Vong and Elaine Won. Congratulations, Steven and Elaine!
Here are a few more photos from this great event.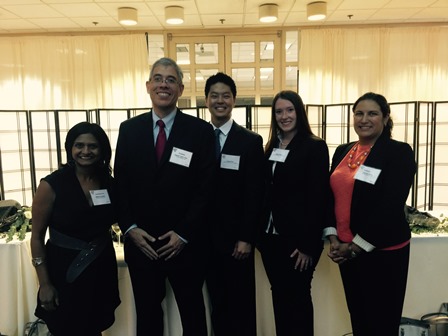 Me with Professor Jack Chin, Lugar Choi '18, Sarah Maiga '18, and Professor Jasmine Harris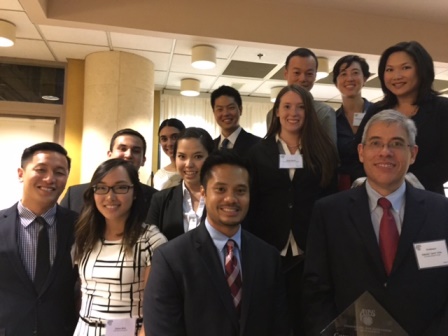 Professor Chin (right) with King Hall staff, students, and alumni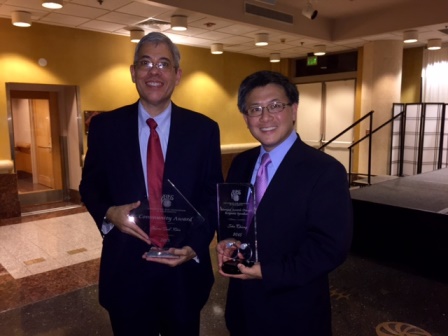 The evening's honorees: Jack Chin and John Chiang