AALS Workshop for Pre-Tenured Law School Teachers of Color
Posted By Kevin R. Johnson, Jun 8, 2015
I spent part of last week in Washington, D.C., to participate in the Association of American Law Schools (AALS) Workshop for Pre-Tenured Law School Teachers of Color, where I sat at a roundtable discussion of the issues facing minority faculty.  I also talked about classroom teaching.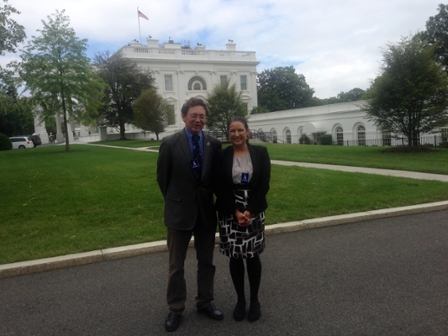 A shot of me with Professor Jasmine Harris, who's soon to join King Hall!
During the trip, I had the pleasure of having lunch in the White House at the Navy Mess with new faculty member Jasmine Harris and her husband Grant, who is Special Assistant to the President and Senior Director of African Affairs.  Grant provided a tour of the White House, including his amazingly beautiful office, the Roosevelt Room, and various other parts of the White House.  I stopped by the White House gift shop and bought a red, white, and blue tie, White House golf balls, and some gifts for family and friends.