AALS Annual Meeting 2015
Posted By Kevin R. Johnson, Jan 4, 2015
UC Davis School of Law had a wonderful presence at the Annual Meeting of the Association of American Law Schools (AALS) in Washington D.C.   This meeting allows our professors to hear great presentations, share their scholarship, and catch up with their professors and colleagues from across the country.
On Friday, we had a reception of alums, faculty, and friends. Among the alums in attendance were Sister Simone Campbell '77 , one of the "Nuns on a Bus," and Gary Solis '71, who recently taught a class in the Law of War at UC Davis. A number of faculty participated in scholarly panels:
Cruz Reynoso participated in "Beyond Michael Brown and Ferguson: Effective Responses to Police Deadly Force."
Gabriel "Jack" Chin and I participated in "The 1965 Immigration Act:  Fifty Years of Race-Neutral (?) Immigration," a panel organized by Rose Cuison-Villazor. (Note:

I very much enjoyed participating in this panel discussion. Jack is working on a book on the 1965 Act, and I presented my chapter on that book. Cruz Reynoso, who asked probing questions, was among those in attendance.)

Gabriel "Jack" Chin participated in "Emerging Issues in Plea Bargaining."
Chris Elmendorf participated in "The Voting Rights Act at 50."
Angela Harris participated in "The More Things Change . . .: Exploring Solutions to Persisting Discrimination in Legal Academia."
I participated in "The Fifty Years' War: Can Legislation Ameliorate Poverty?"
Hollis L. Kulwin participated in "The Non-Traditional Student: Student Services' Role in Providing Acclimation and Support."
One of the highlights of the conference was David Horton's presentation of his paper "In Partial Defense of Probate: Evidence from Alameda County, California," which was honored with the AALS Scholarly Paper Award -- a very high honor for a faculty member. David made us all incredibly proud.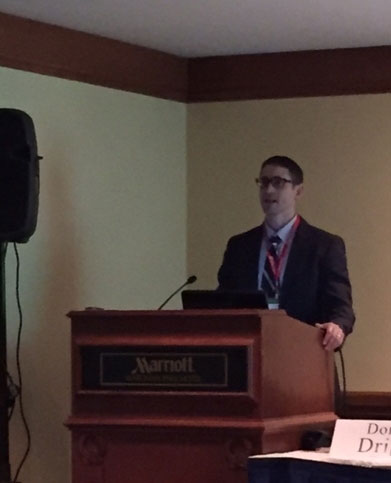 Professor Horton presents his award-winning paper.
I did my best to stop by as many panels as I could to see our professors shine.
UC Davis also co-sponsored a Minority Groups Section reception on Saturday night. It was a full house with much good cheer and positive energy. Professor Rose Villazor, a member of the Section Executive Committee, helped organize the event. Rose, Afra Afsharipour, and I were among those in attendance.
One of the highlights of the conference was the Minority Groups Section Lunch. Anita Hill, who came to the national spotlight during the Justice Clarence Thomas confirmation hearings, was the guest speaker.  Former King Hall colleague Angela Onwuachi-Willig was honored for her scholarship, teaching, and service with the Clyde Ferguson Award.
All told, UC Davis School of Law played a prominent role at this year's signature law professors event.