A Visit from the White House
Posted By Kevin R. Johnson, Feb 17, 2011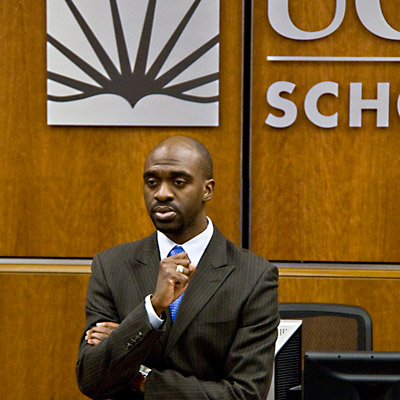 Wednesday brought an inspiring visit to King Hall from Michael A. Blake, Associate Director of African-American Outreach with the White House Office of Intergovernmental Affairs & Public Engagement.  He spoke in the Kalmanovitz Appellate Courtroom on February 16 on "Redefining the Civil Rights Issues of the 21st Century" in an event sponsored by the Black Law Students Association. 
I thoroughly enjoyed having the opportunity to speak with Mr. Blake for a few minutes beforehand and to listen to his talk, which ranged from his family history as Jamaican immigrants to his experiences working on the Obama campaign to a description of the "need for vision" as part of the process of social change.  In attendance were a number of faculty, including Professors Keith Aoki, Andrea Bjorklund, Floyd Feeney, Evelyn Lewis, Rex Perschbacher, and Clay Tanaka, as well as Assistant Dean Sharon Pinkney, and a good turnout of students, and it was inspiring to hear him urge those attendance to work for a more just society.
"When I look out at this room, I see faces and different stories, and people trying to do different and remarkable things," he said. "Change is not going to be easy.  It's not supposed to be easy.  But it's fulfilling when you make an investment in that change."