A Toast to Angela Harris and Evelyn Lewis
Posted By Madhavi Sunder, May 11, 2017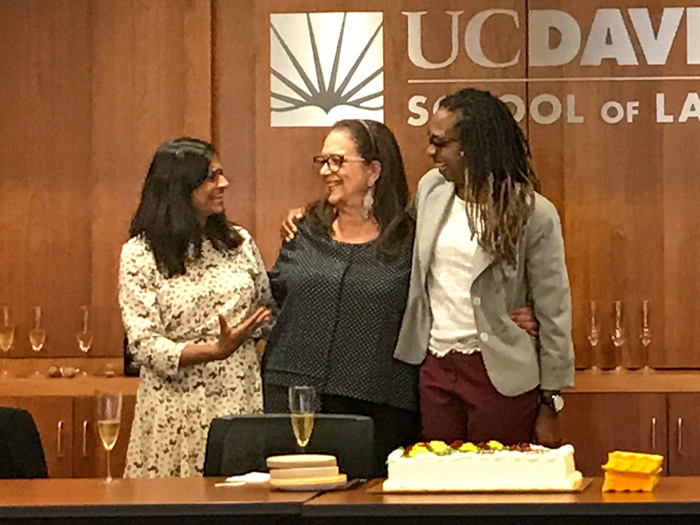 Last week Professor Angela Harris participated in her last official faculty meeting before her retirement, and the faculty surprised her and Professor Evelyn Lewis, who retired in January of this year, with an impromptu celebration with cake and champagne, accompanied by toasts to their many contributions to King Hall over many years.
I toasted Professor Lewis, recognizing her as a true pioneer not only on the King Hall faculty, but at UC Davis broadly. The headline in the local paper when she was hired in 1989 was "UC Davis Hires Black Woman." Her historic appointment began an important and profound change to the culture of the School of Law, where this year we celebrated becoming the first majority-minority faculty of any top-tier American law school. Professor Lewis is a leading business scholar and an exceptional teacher, who was recognized with the Distinguished Teaching Award in 2010. She was ahead of her time in emphasizing skills education, in particular transactional skills training, which she provided in her courses on Business Drafting and Planning and Non-Profit Organizations. She has generously hosted an annual Black Students Association Potluck at her home every year, a tradition we cherish. Indeed, Professor Lewis, probably more than any other faculty member, has contributed greatly to cultivating the close knit and caring community we cherish at King Hall. Professor Lewis modeled a culture that values both excellence and community, and I very much hope that we will continue to preserve that tradition in the years to come.                                                                                                                                                                                 
Professor Ikemoto delivered a beautiful toast to Angela Harris. Professor Ikemoto had been Chair of the King Hall Faculty Appointments Committee when we began recruiting Professor Harris. With Professor Harris's retirement, King Hall recognizes a true intellectual powerhouse: Professor Harris's article, "Race and Essentialism in Feminist Legal Theory," published in the Stanford Law Review in 1990, is one of the most cited law review articles of all time. Professor Harris was a paradigm shifter in not just one field of legal scholarship but several: from critical rights theory to feminist legal theory to criminal law. Most recently, and especially since she came to UC Davis School of Law after many years at UC Berkeley School of Law, Professor Harris pioneered the fields of food justice, and the academic discourse around mindfulness and cultivating a meaningful career in the law. She championed the law school's focus on academic as well as social and emotional wellbeing of our students. This year, she also helped the law school establish a new Water Justice Clinic, focused on access to water among California's rural poor. At King Hall, Professor Harris was the long-time chair of the Intellectual Enrichment Committee, in which role she began an annual "Schmooze" event for faculty to share with each other their summer research projects every May. Indeed, it was fitting that this celebration was held on the day of the Schmooze.
Professors Harris and Lewis will be sorely missed. We are grateful for their many, profound contributions to the intellectual reputation, life, and culture of King Hall, and we look forward to continuing the important traditions they established.