A Reception Honoring Cruz Reynoso
Posted By Kevin R. Johnson, Mar 31, 2016
I had the honor of attending a reception in honor of Professor Cruz Reynoso and the installation of the officers of the Cruz Reynoso Bar Association, which previously had been known as La Raza Lawyers of Sacramento. It was an elegant event, held before a standing room crowd only in the new City Hall in Sacramento last night.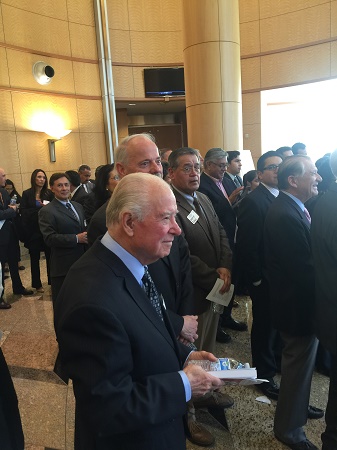 Cruz listens to some of the speakers at the reception in his honor.
The King Hall presence was palpable, including alums Darrell Steinberg, Professor Amagda Perez, Sandra Talbott, Eric Ratinoff, Anel Carrasco, Mary Waltermire, Theo Cuison, Jenni Gomez, Rogelio Villagrana, Fernando Aceves, Gil Roque, Stephanie Finelli, and many, many more.  Many judges and justices (and friends of UC Davis School of Law) were in attendance, including Presiding Justice Vance Raye, Justice Elena Duarte and Judges Steve Gevercer, Sonia Cortes, Ken Mennemeier, and others.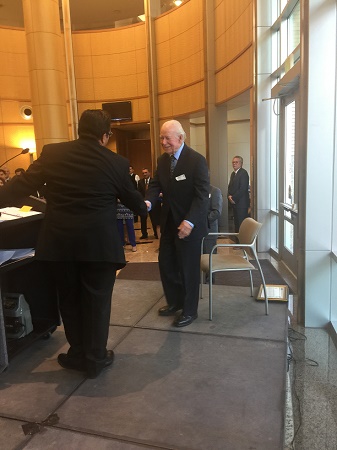 Cruz takes the stage to accept one of many awards.
Cruz was honored with presentations and resolutions from the City of Sacramento (Eric Guerra, City Council), the Sacramento County Board of Supervisors (Phil Serna), and others.  The crowd gave Cruz a warm and enthusiastic reception, and he spoke eloquently about the continuing Latino civil rights movement.
Once again, this event reminded me how fortunate we are to be a part of the King Hall community.