A Rainy Saturday at King Hall: Intraschool Negotiations Competition and the King Hall Outreach Program
Posted By Kevin R. Johnson, Feb 8, 2017
Last Saturday, in the rainy morning hours, there was hustle and bustle around King Hall.  First year students were dressed to the nines for the 10th annual King Hall Intraschool Negotiations Competition organized by the King Hall Negotiations Team (KHNT).  Alums, friends of the school, and students came from near and far to help judge the competition, which is an important part of the skills training available at UC Davis School of Law.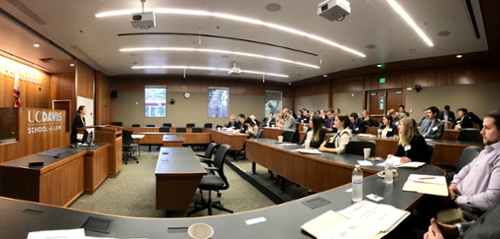 Professor Donna Shestowsky (pictured above, left), who has served as the intellectual and organizational inspiration for revamping negotiations and other skills training at King Hall, was in attendance.  I had the opportunity to thank the judges, which included Judge Anders Holmer '72, Kim Lucia '09, Jeff Edwards '09, Brendon Ishikawa '95, and last year's Law Student Association President Sam Mandell '16.  Olivia Filbrandt '17 welcomed the judges on behalf of the students.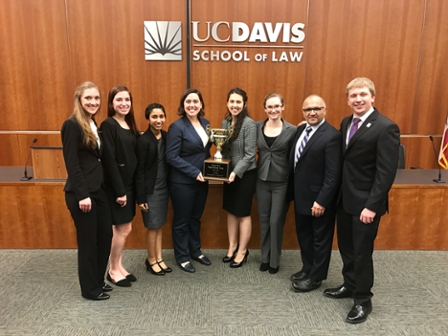 Winners and finalists. For results, visit http://students.law.ucdavis.edu/negotiations/competition.html.
Meanwhile, the King Hall Outreach Program (KHOP) students were taking practice LSAT test in the morning. They were invited to the final round of the negotiations competition in the afternoon. Senior Associate Dean for Academic Affairs Madhavi Sunder had lunch with the KHOP students last week, and I had lunch with them on Saturday.  They are an amazing bunch, and I was proud that they were participating in the program and seeking to become lawyers.  We need them!  Here is a photograph of the KHOP students: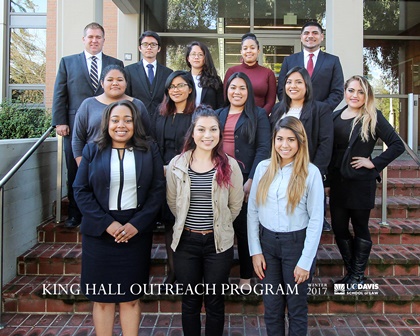 It was yet another day that made me proud to be associated with UC Davis School of Law!