A New Year's Message from Asm. Luis Alejo '01
Posted By Kevin R. Johnson, Jan 8, 2016
I was pleased to receive a special New Year's message from King Hall alum and Assemblymember Luis Alejo '01.
Luis wrote, "Happy New Year! This past year was my most remarkable yet by having 18 of my 20 bills signed into law, more than any other Assemblymember in Sacramento. We were able to bring back a new form of redevelopment (AB2) for economic development and affordable housing for our disadvantaged communities, had a $3.5 MILLION debt erased for San Benito County, won $4.4 MILLION repayment for the City of Watsonville, phased out the use of 'Redskins' as a mascot in all California public schools (AB30), we settled a 20-year dispute between optometrists and vision service centers (AB 595) and we had the most important groundwater rights adjudication bill (AB1390) signed into law. I was honored when the California League of Cities named me '2015 Legislator of the Year!' Moreover, two of my 2013 landmark bills went into effect this year, including AB60 on January 2, 2015 that has now allowed over 650,000 immigrants to obtain a driver's license and AB10 that raised California's minimum wage to $10, making it the highest in the nation, along with Massachusetts."
Here is a photo of Luis speaking in Oakland after Governor Jerry Brown signed the minimum wage legislation: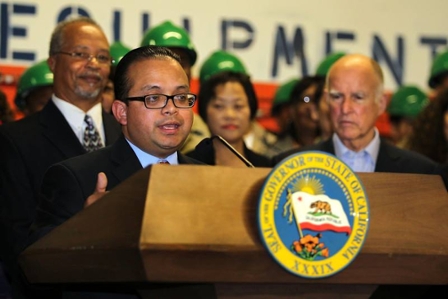 I share my own New Year's message with the King Hall Community when the Spring Semester begins on Monday, January 11. I will have some exciting announcements regarding major events at King Hall, including which great civil rights icon will deliver the commencement address for the Class of 2016!