A Message about the Dr. Martin Luther King, Jr. Holiday 2017
Posted By Kevin R. Johnson, Jan 18, 2017
Dear King Hall community,
As we return to classes following our federal holiday honoring Dr. Martin Luther King, Jr., I hope you will join me in remembering the deep connection between UC Davis School of Law, Dr. King, and his legacy.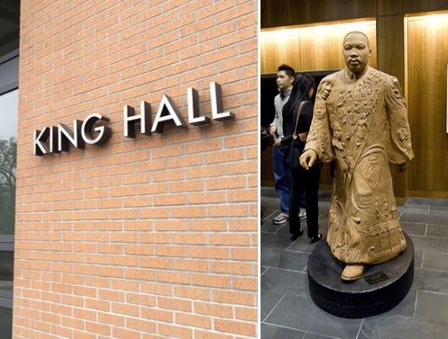 Shortly after Dr. King was assassinated in April 1968, students, faculty, and staff petitioned campus administrators to name the law school building after him to honor his memory and dedicate the School of Law to his ideals of social justice and public service. On April 12, 1969, the building was officially christened King Hall in a ceremony presided over by Chief Justice of the United States Earl Warren, who remarked, "Even in the naming of the building, one can sense the high purpose to which its facilities are to be dedicated."
Dr. King's widow, Coretta Scott King, delivered our commencement address in 1981, and his son Martin Luther King III visited King Hall in 1986. The following year, a sculpture of Dr. King by artist Lisa Reinertson was placed in the King Hall lobby, thanks to the efforts of students and alumni.  That statue still graces the entrance of King Hall, alongside a video exhibit devoted to Dr. King.  Several of his famous quotations are displayed on the walls upstairs.  Last year, Congressman John Lewis, a colleague of Dr. King and civil rights icon in his own right, delivered a rousing commencement address on the occasion of the School of Law's 50th anniversary.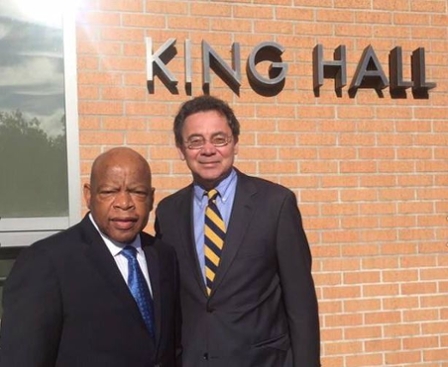 Most importantly, UC Davis School of Law has retained its dedication to Dr. King's dream of social justice. We can take pride in the work of our faculty, which so often addresses the most compelling issues of our time, the efforts of our students, who work thousands of hours each year to provide access to justice for the underserved via our King Hall clinics, and our alumni, so many of whom work in public service or devote a portion of their practice to helping those in need. King Hall is truly making a difference in our community, our state, and our world.
I hope you enjoyed a restful and rejuvenating Martin Luther King Day holiday, and I look forward to working together to help realize Dr. King's dream in the months and years to come.
Sincerely,
Kevin R. Johnson
Dean