A Full Menu of Lunchtime Events
Posted By Kevin R. Johnson, Oct 18, 2010
The noon hour at King Hall is often marked by a number of exciting events and panel discussions that enrich the intellectual life at UC Davis School of Law. Here's a sampling of the events from earlier today.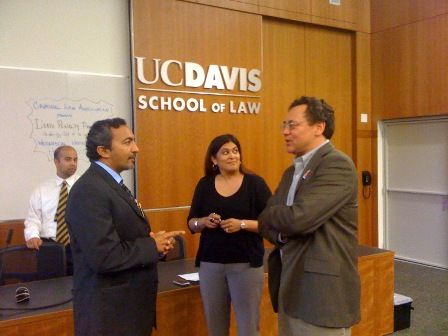 Welcoming candidate Ami Bera to King Hall.
The Middle Eastern South Asian Law Students Association (MESALSA) welcomed Democratic congressional candidate Dr. Ami Bera to King Hall. Dr. Bera discussed his background and experiences as a South Asian candidate running for public office. MESALSA has events scheduled all week.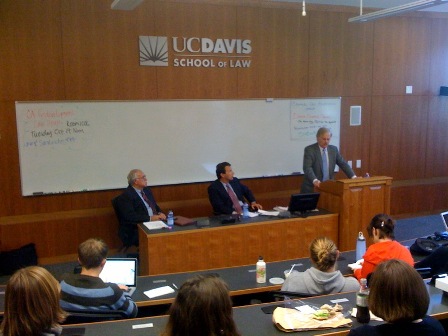 Jack Stewart, Steve Maviglio, and Professor Frank discuss Prop 23.
The Environmental Law Society (ELS) and American Constitution Society (ACS) hosted a debate/panel discussion on Prop 23 (the initiative that would suspend AB32, the Global Warming Solutions Act). Visiting Professor Richard M. Frank moderated the discussion between Jack Stewart, President of the California Manufacturers & Technology Association, from the Yes on 23 side, and Steve Maviglio, a Spokesman for the No on 23 campaign.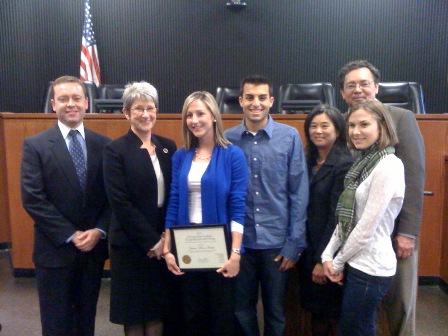 Michael Mills, Hon. Kathleen Butz, award winner Jessica Hawk, Scott Judson, Kathryn Doi, Lindsey McNeill, and me
Also at noon today, the CEB Award for Excellence in Legal Research and Writing at UC Davis School of Law was presented to Jessica Hawk '12.  This annual competition at King Hall is sponsored by Continuing Education of the Bar, California (CEB), a nonprofit organization of the California State Bar Association and the University of California.  The finalists (Hawk, Scott Judson '12, and Lindsey McNeill '12) were selected for having written the best briefs in their respective sections of the Law School's first-year Legal Research and Writing Course.  The three members of the Selection Committee were all King Hall alums: Hon. Kathleen Butz '81, Associate Justice, California Court of Appeal; Kathryn Doi '85, and Michael Mills '97.
There's always plenty going on at King Hall! Learn more about upcoming events at the Law School home page, CILC event website, and on Twitter @UCDavisLaw!