A Day of Celebration
Posted By Kevin R. Johnson, Oct 27, 2014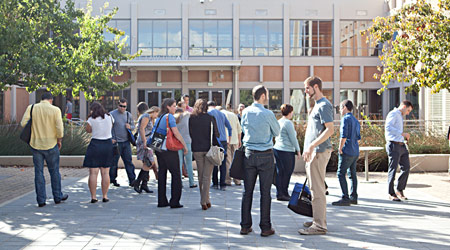 We had a wonderful day of celebration at UC Davis School of Law this Saturday. More than 250 alums from the classes of 1969, 1974, 1979, 1984, 1989, 1994, 1999, 2004, and 2009 returned to King Hall to see friends and faculty, hear about new developments at the law school, and see the new-and-improved King Hall. Many faculty attended, including Professors Cruz Reynoso, Lisa Pruitt, Floyd Feeney, Rex Perschbacher, Marty West, Jack Ayer, Joel Dobris, and John Poulos.
At lunch, I welcomed the alums and updated them on our new faculty and academic centers, our dramatic increase in student applications, and the need to raise funding for more scholarships. Alumni Board President Gage Dungy '03 extolled the alums to help out their King Hall in any way that they can. Penny Westfall '84, member of her reunion committee, told of the scholarship funding that her class raised. (The Class of 2004, joined by the Class of 2009, raised money for the Celestial Summer Dove Cassman Scholarship in honor of the late Celestial Cassman '04). The classes toured King Hall in the afternoon and many met for dinner that evening. All in all, it was a great day for the King Hall faithful.
In the evening, I had the opportunity to attend the Mexican American Concilio of Yolo County Annual Dinner in Woodland. One of the evening's honorees was Professor Amagda Perez, supervising attorney in the Immigration Law Clinic, who received the Pilar Andrade Award for her devotion to the community. Professors Cruz Reynoso and Madhavi Sunder were in attendance as well as a group of clinic students. Also enjoying the event were Tom Stallard '75, the Mayor of Woodland (and a former King Hall Alumni Board President) and Joe Krovoza '94, former Mayor of Davis. Photos of the award ceremony are available here.