A Conference on Immigrant Access to Bar Admission
Posted By Kevin R. Johnson, Oct 17, 2014
The Fall semester is in full swing, and the King Hall calendar is packed with outstanding events.
One of those recent events was "Immigrant Access to Bar Admission: Then and Now," a conference to examine laws that limit professional licenses based on race, national origin, gender or immigrant status. This topic is one in which I have a great deal of interest, as I was one of the attorneys on the briefs for the State Bar of California in the Sergio Garcia case. (See my op-ed in the National Law Journal: The Broader Lesson from Garcia's Fight to Practice.)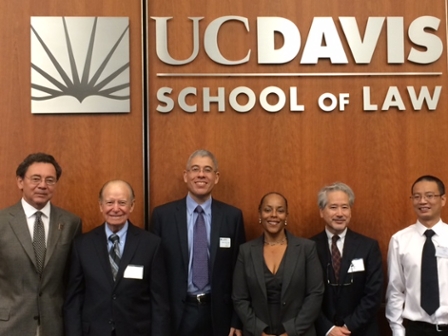 I participated in this event as a discussion moderator. Speakers included (pictured with me, left to right):
Professor Emeritus Cruz Reynoso

Professor Gabriel "Jack" Chin
Fredericka McGee, General Counsel and Deputy Chief of Staff, California State Assembly Speaker Tony Atkins
Don K. Tamaki, Partner, Minami Tamaki LLP, Counsel for State Bar of California in In re Sergio Garcia
Chen Li, Foundation Fellow, Washington University; Global Associate, National University of Singapore
Thanks to all who spoke at and attended the conference. For more upcoming events at King Hall, visit the calendar on the law school website.