A Busy Week in Review
Posted By Kevin R. Johnson, Nov 22, 2010
Last week was packed with great King Hall events.
On Tuesday, more than 100 alums, students, and friends of the Law School met at the firm of Remy, Thomas, Moose and Manley LLP in downtown Sacramento for our Environmental Law Alumni and Student Networking Event. The students of the Environmental Law Society, the Student Alumni Relations Committee, and the Alumni Board invited all to learn about the newly established California Environmental Law and Policy Center and meet with Professor Richard M. Frank '74, who will serve as the director. There was a lot of excitement about the new center! There was great alumni support and help for this event – specifically from Anne Hartridge '99, Tina Cannon Leahy '98, Chip Wilkins '99, Charity Kenyon '77, and Michael Mills '97.
On Wednesday, Director of Development Karen Charney and I hopped on a plane to meet with our wonderful San Diego-area alumni. We caught up with about a dozen alums at a great restaurant called The Fish Market.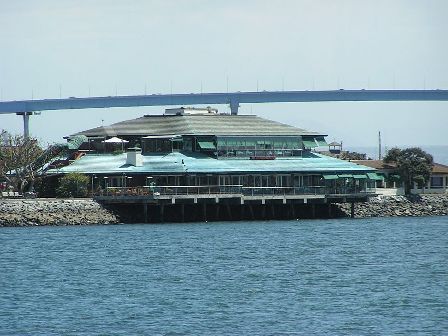 The Fish Market Restaurant in San Diego
The view of the Pacific was great. We were right on the water, and we could see the notorious stranded Carnival cruise ship docked nearby! It was nice to see everyone, including Charlie Bird '73, Michael Duckor '70, and Mike Van Horne '75, who said he would be interested in organizing San Diego-area lunches for King Hall alumni in the future!
Then it was back to NorCal. On Thursday, I headed to the downtown Sacramento office of Downey Brand for the "Celebration and Reception for Friends of Legal Services of Northern California (LSNC)." I am President of the Board of Directors for LSNC, and it was my distinct pleasure to introduce Assemblyman and Insurance Commissioner-elect Dave Jones, who, prior to entering politics, worked for six years as a legal aid attorney with LSNC. Jones spoke of LSNC's great work and paid tribute to executive director Gary Smith, who recently was honored with the coveted Loren Miller award for his dedication to public interest law. Gary has taught public interest law at King Hall for many years.
A busy week wrapped-up on Friday with a visit by the UC Davis Foundation Board to King Hall. The Board is a nonprofit group that oversees private fund raising for the entire campus. Trustees play a leadership role in assuring the university's success in fundraising and advocacy. For many of the trustees, who are new to the board, this was their introduction to the Law School. I hoped to make a good impression! I told them about our great faculty, tradition of scholarship, and solid sense of community. They enjoyed seeing our building video and student testimonial videos. The trustees also got a building tour led by some of our great students, many of whom were scholarship recipients who could speak to the importance of private support for our school.
To top off the week, I went to Sacramento State to give a talk to about 200 members of the Renaissance Society about immigration reform and the Arizona immigration law. The society, a partnership between the retired community and CSU Sacramento, hosts speakers on topical issues of public interest. I must say that they asked some hard questions!