Graduates Earn Environmental Law Certificates
Posted By Kevin R. Johnson, May 28, 2018
It is commencement season at UC Davis School of Law. Saturday, May 19 was the School of Law Commencement. In addition, a number of certificate programs had separate ceremonies. Professor Rose Villazor organized an event immediately before the law school graduation for students earning Immigration Law Certificates. On Friday, the Environmental Law Certificate ceremony was held in the Wilkins Moot Courtroom.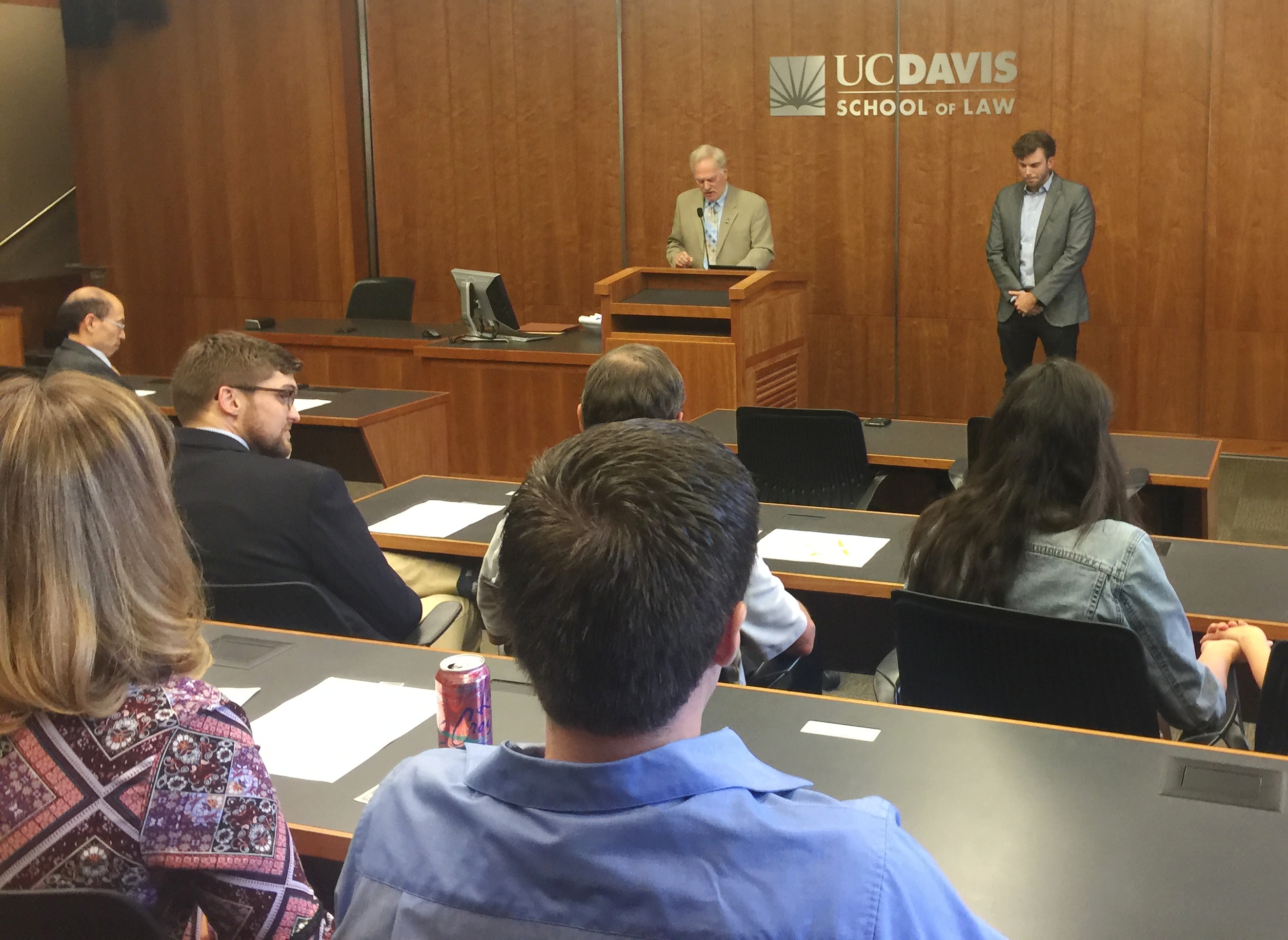 Professor Frank recognizing Mack Carlson
Ten members of the Class of 2018 took the necessary class to earn an Environmental Law Certificate; many had family and friends at the ceremony. Professor Rick Frank was the Master of Ceremonies and presented each student with a certificate. As has become customary, Professor Frank had personal stories to tell about each student.
The certificate recipients were:
Brittany Brace
Mack Carlson
Samantha Carrasco
Ken Conlan
Dane Jones
Heraclio Pimental Jr.
Emily Roberts
Sunshine Saldivar
Amanda Saunders
Sam Vice
The 13th annual ceremony was as always special. It is amazing — and inspiring — to hear about the wonderful environmental law students and the incredible things they do.
The advisory group of the California Environmental Law and Policy Center attended the event, including, among others, alums Tina Cannon Leahy '98 and Mary Scoonover '87, as well as Tim Taylor, a respected environmental law attorney and partner of the law firm Stoel Rives.
Professor Al Lin also was in attendance.