2012 Fenwick & West Symposium on Social Media: "Connect!"
Posted By Kevin R. Johnson, Feb 3, 2012
This year's Fenwick & West Symposium, "Connect! Social Media as a Platform for Innovation and Collaboration," is a huge success!  The topic, social media, is both timely and fascinating.  Today we have heard from a lineup of Silicon Valley all-stars, including Twitter Co-Founder Jason Goldman, who delivered the keynote speech at lunchtime.  He tweeted his thanks to us @UCDavisLaw (and to his 1.3 million followers) for having him speak!  I thought his talk was fascinating.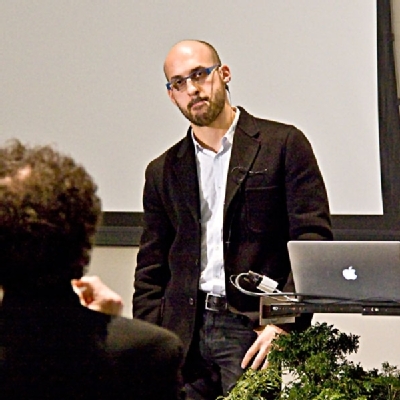 Jason Goldman takes a question from Professor Mario Biagioli.
The turnout for today's symposium has been great.  I saw lots of King Hall alums in the audience, including Toso Himel, Grace Arupo, Lee Ann Eager, Alberto Roldan, Jan Carmikle, and more.  Alums David Bell and Robert Hulse of Fenwick & West were organizers of the event.  Alums Jim Scheinman (of Maven Ventures) and Jishnu Menon (of Mozilla) were panelists.  Professor Anupam Chander gave a great opening speech, titled "How Law Made Silicon Valley." 
There's still time to come to our Kalmanovitz Appellate Courtroom to catch more panel presentations.  Or watch a live stream here.
If you're tweeting about the symposium, as many people are, check out our Twitter page, and look for the hashtag #UCDLawConnect.
Many thanks to our organizers, presenters, audience members, and, of course, Fenwick & West!