2011 Milestone Reunions
Posted By Kevin R. Johnson, Oct 24, 2011
One of the Law School's biggest events of the year is our Milestone Reunions.  Over the weekend, we welcomed the Classes of '71, '76, '81, '86, '91, '96, '01, and '06 back to King Hall.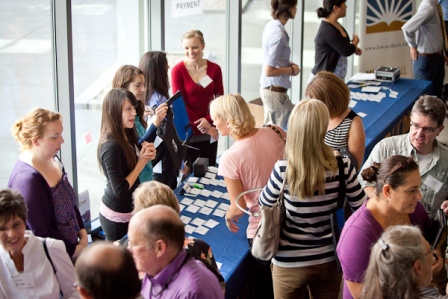 Alumni arrive at UC Davis
The alumni turnout was excellent, and many brought their spouses, partners, and children.  Overall, more than 200 people attended the reunion events.
I got to see some great friends of King Hall, including Justice Kathleen Butz '81, community activist Angela Oh '86, Robert Leidigh '71 and Barbara Leidigh '76, "Mr. Aggie" Wayne Bartholomew '71 and his brother Hal Bartholomew '71.
Alumni Board President John Schick '72 welcomed everyone.  He spent time visiting with the Class of '71, as he actually began his law studies with that Class, and left for a year of military service.  John introduced me at the podium, and I talked about the great successes at UC Davis School of Law – great faculty, great new facilities, and continued great community of alums, students, staff, and faculty.  Law Students Association President Rabia Paracha '12 gave remarks as well.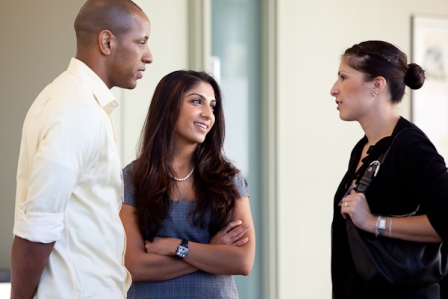 From left, Embert Madision '13, President of the Black Law Students Association; Law Students Association President Rabia Paracha '12, and Monica Crooms '13, co-chair, King Hall Legal Foundation. 
Alums were very enthusiastic about catching-up with their professors.  We had a great showing of faculty, two of whom, Dan Simmons '71 and Amagda Pérez '91, were celebrating reunions.  Among the faculty in attendance were:
Professor Alan Brownstein
Professor Emeritus Joel C. Dobris
Professor Robert Hillman
Professor Lisa Ikemoto '87
Professor Krystal Callaway Jaime '02
Professor Miguel Méndez
Professor Angela Onwuachi-Willig (now at the Univ. of Iowa College of Law.  She will deliver our Bodenheimer Lecture on November 8.)
Professor Amagda Pérez '91
Dean Emeritus & Professor Rex R. Perschbacher
Professor Emeritus Cruz Reynoso
Professor Donna Shestowsky
Professor Daniel Simmons '71 (the emcee for the slide show of the various classes)
Professor Emerita Martha West
Professor Emeritus Richard C. Wydick (with Judy Wydick)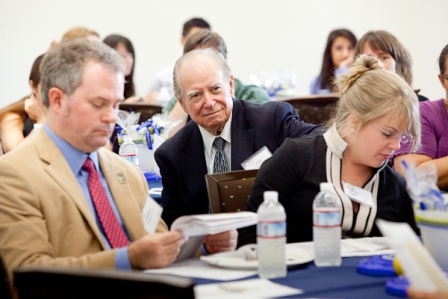 Professor Emeritus Cruz Reynoso listens to the program.
After lunch, students and staff gave tours of the new and improved King Hall to alums.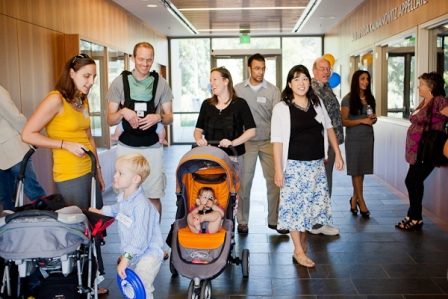 Alums and their families check out the new King Hall.
The alumni went on to have dinner with their classes at Sophia's ('06),  Sudwerk ('76, '81, '86, '91, '96, '01), and the Hyatt and home of Dan Simmons ('71).
It was great seeing so many great King Hall alumni!  Thanks to all who attended!!