King Hall Annual Fund
The King Hall Annual Fund provides vital, irreplaceable support to enhance our current program and expand the educational opportunities available to our students. Every dollar you give to the King Hall Annual Fund supports our students through student organizations, journals, library services, facilities, technology enhancements, interactions with alums, scholarships and expanded academic programs. State assistance for UC Davis School of Law has dramatically decreased, shifting the financial burden to students. Through these changing financial times, UC Davis School of Law stands firm in its commitment to be a leader in fostering a cooperative and supportive student atmosphere through a sense of community. We need your help to continue this legacy. Gifts to the Annual Fund enable it to become a more substantial, meaningful source of income to directly support King Hall and our students.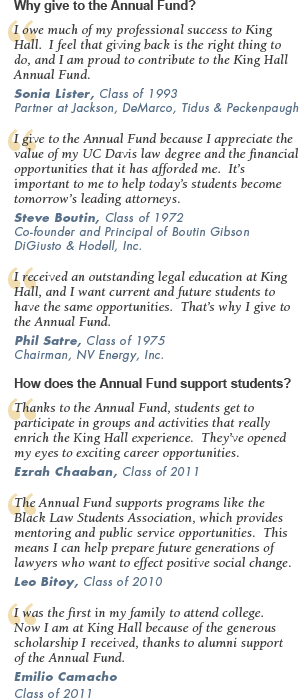 Invest in the value of our degree - Gifts to the Annual Fund support moot court competitions, lectures and symposia, and other activities and resources that directly impact the national reputation of King Hall and the value of a UC Davis law degree.
Bridge the gap - The cost of educating our students is far higher than their fees cover. Help us make up the difference so that we can continue to offer a public university legal education that is second to none.
Re-connect with the community - When students enroll at King Hall, they join a community that is passionately committed to the best in legal education, scholarship, and teaching excellence. When supporters and alumni give to the Annual Fund, they re-connect with that community in ways that directly support today's students and faculty.
Sustain the success - UC Davis School of Law has long set the standard for legal education in a public university setting, and recent years have seen the Law School's national and international reputation rising to new heights. Your gift to the Annual Fund helps to sustain this success, providing for support for crucial priorities and the flexibility to direct resources to areas of greatest need.
Support today's students - Students today are facing higher fees, as state funding grows increasingly uncertain. Your gift to the Annual Fund enhances scholarship support, showing that they can depend on our loyal alumni and supporters to support their dreams of a King Hall education
Set your own standard - Every gift matters, and every alumnus and supporter should decide what level of giving is appropriate. Each gift, no matter how large or small, helps to create excellence at King Hall, re-connects you with the Law School community, and inspires others to give, too.